"…a stunning collection of stories seemingly frozen in single moments."
XXL
XXL books are a minimum 39 cm (15.4 in.)
Stephen Wilkes. Day to Night. Art Edition No. 101–200 'Grand Canyon, Arizona, 2015'
Edition of 100
Hardcover with two fold-outs, numbered and signed by Stephen Wilkes, in clamshell box, 42 x 33 cm (16.5 x 13 in.), 19.15 kg (42.13 lb), 262 pages; with the signed inkjet print 'Grand Canyon, Arizona, 2015', on Legacy Baryta 310 smooth satin paper, 76.8 x 46 cm (30.2 x 18.1 in.)
5000
Edition: English, French, German
Availability: In Stock
Stephen Wilkes's extraordinary panoramas depict our most famous landmarks from dawn to dusk. He captures thousands of single exposures, carefully editing and blending them into one seamless composition that shows the passage of time. With details highlighting the individual stories captured within each multi-moment image, this collection unveils a new way of seeing some of the world's most iconic locations, from the Grand Canyon to Piazza San Marco.

Art Edition (No. 101–200), with the print Grand Canyon, Arizona, 2015. The book and print are both numbered and signed by Stephen Wilkes.
XXL
XXL books are a minimum 39 cm (15.4 in.)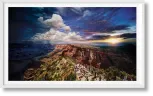 Stephen Wilkes. Day to Night. Art Edition No. 101–200 'Grand Canyon, Arizona, 2015'
5000
The Time Traveler
Stephen Wilkes's day-to-night portraits of iconic locations, with a signed print
If you were to stand in one spot at an iconic location for 30 hours and simply observe, never closing your eyes, you still wouldn't be able to take in all the detail and emotion found in a Stephen Wilkes panoramic photograph. Not only does Wilkes shoot over 1,500 exposures from a fixed angle, he also distills this visual information afterward in his studio, painstakingly composing selected frames into a single image.

Day to Night presents 60 epic panoramas created between 2009 and 2018, shot everywhere from Africa's Serengeti to the Champs-Élysées in Paris, from the Grand Canyon to Coney Island, from Trafalgar Square to Red Square. The book also features extraordinary details—works of art in their own right that highlight the stories contained within each image. A bride makes her way through Central Park; in Tanzania, zebras gather around a near-invisible watering hole during a drought; in Rio de Janeiro, surfers come and go while a man holds a sign reading "No more than two questions per customer." "It is exactly these small stories, these details, that draw people into the photographs," says Wilkes. Once discovered, these mini narratives lend each composition a personal, candid feel.

This Art Edition comes with a print of Grand Canyon, Arizona, 2015, each numbered and signed by Wilkes. After being granted special permission to use the off-limits Desert View Watchtower by the National Park Service, Wilkes lived and slept there for 36 hours. "I saw the landscape backlit and toplit in all its depth and dimensionality. I was also able to capture the human scale in this natural context," he said. Luck favored his preparation: a clear night sky allowed him, with an hour-long exposure, to capture perfect moonlight. This rare moment became part of the final photograph, here available in a large-format digital pigment print.

Art Edition (No. 101–200), with the print Grand Canyon, Arizona, 2015. The book and print are both numbered and signed by Stephen Wilkes.

Also available in an alternative Art Edition (No. 1–100) with the signed print Brooklyn Bridge, New York City, 2016 and as an unlimited XXL edition.
The photographer
Stephen Wilkes's work has appeared in Vanity Fair, Time, Fortune, National Geographic, Sports Illustrated, in campaigns for Nike, American Express, Sony, and Rolex, and is included in the collections of the Houston Museum of Fine Arts, Museum of the City of New York, 9/11 Memorial Museum and many more. Wilkes awards and honors include the Alfred Eisenstaedt Award for Magazine Photography and TIME Magazine Top 10 Photographs of 2012.
The author
Lyle Rexer is a New York–based writer, curator, and art critic. He is a contributor to Photograph magazine, and has written for many others including Art in America, Aperture, and Modern Painters. His books include The Edge of Vision: The Rise of Abstraction in Photography and How to Look at Outsider Art. A Rhodes scholar, he serves on the faculty at School of Visual Arts in New York City.
Stephen Wilkes. Day to Night. Art Edition No. 101–200 'Grand Canyon, Arizona, 2015'
Edition of 100
Hardcover with two fold-outs, numbered and signed by Stephen Wilkes, in clamshell box, 42 x 33 cm (16.5 x 13 in.), 19.15 kg (42.13 lb), 262 pages; with the signed inkjet print 'Grand Canyon, Arizona, 2015', on Legacy Baryta 310 smooth satin paper, 76.8 x 46 cm (30.2 x 18.1 in.)
ISBN 978-3-8365-7592-8
Edition: English, French, German
The picture frame seen here is for display purposes only; the print is sold unframed.
Download product images here
No reviews have been posted for this item yet. Be the first to rate this product.