"This special edition collection, designed by Paul Smith, salutes Londoners and their shared history, who throughout the city's complex past and shifting present, have kept their humour, unique character, and bulldog spirit."

"Seldom sunny, often wry, this air-brush-free portrait of our troubled old friend London is one that we implore you - occupants of her nether regions and beyond - to snap-up and keep hold of forever."
XL
XL books are at least 34 cm (13.4 in.) high, with the exception of landscape-format titles
London. Portrait of a City, Paul Smith Edition No. 501–1,000 'Traffic Policeman'
Edition of 500
Archival pigment print, 68 x 52 cm (26.8 x 20.5 in.), hardcover volume in clamshell box, cover and box design by Paul Smith, 25 x 34 cm (9.8 x 13.4 in.), 552 pages
1000
Edition: English, French, German
Availability: In Stock
London has innumerable faces, constantly evolving and growing through a complex past and shifting present, while holding on strong to its sense of humor, character, and bulldog spirit. This stunning Art Edition pays tribute to the British capital in all its glory with hundreds of photographs, many previously unpublished, alongside essays, quotations, and pop culture references.

Limited Art Edition of 500 copies, with a cover and clamshell case designed by Paul Smith and signed fine art print Traffic Policeman (1960s) by Elmar Ludwig
XL
XL books are at least 34 cm (13.4 in.) high, with the exception of landscape-format titles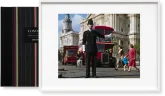 London. Portrait of a City, Paul Smith Edition No. 501–1,000 'Traffic Policeman'
1000
London Calling
Tailor-made for TASCHEN by Paul Smith
For die-hard lovers of Paris, Berlin, London, Los Angeles, and New York, TASCHEN introduces the
Portrait of a City Art Edition series
. For each edition,
limited to only 500 copies
, a legendary local fashion designer is invited to design a bespoke fabric to line the cover, and a large signed and numbered print of one of the images from the book is included.
Limited to 500 numbered copies
Comes with a fine art print on archival paper, signed by Elmar Ludwig
Packaged in a special cover and clamshell case designed by legendary British fashion designer Paul Smith
Samuel Johnson famously said that: "When a man is tired of London, he is tired of life." London's remarkable history, architecture, landmarks, streets, style, cool, swagger, and stalwart residents are pictured in hundreds of compelling photographs sourced from a wide array of archives around the world. London is a vast sprawling metropolis, constantly evolving and growing, yet throughout its complex past and shifting present, the humor, unique character, and bulldog spirit of the people have stayed constant. This book salutes all those Londoners, their city, and its history. In addition to the wealth of images included in this book, many previously unpublished, London's history is told through hundreds of quotations, lively essays, and references from key movies, books, and records.
From Victorian London to the Swinging '60s; from the Battle of Britain to punk; from the Festival of Britain to the 2012 Olympics; from the foggy cobbled streets to the architectural masterpieces of the millennium; from rough pubs to private drinking clubs; from Royal Weddings to raves, from the charm of the East End to the wonders of Westminster; from Chelsea girls to Hoxton hipsters; from the power to the glory: in page after page of stunning photographs, reproduced big and bold like the city itself, London at last gets the photographic tribute it deserves.
Photographs by:
Slim Aarons, Eve Arnold, David Bailey, Cecil Beaton, Bill Brandt, Alvin Langdon Coburn, Anton Corbijn, Terence Donovan, Roger Fenton, Bert Hardy, Evelyn Hofer, Frank Horvat, Tony Ray-Jones, Nadav Kander, Roger Mayne, Linda McCartney, Don McCullin, Norman Parkinson, Martin Parr, Rankin, Lord Snowdon, William Henry Fox Talbot, Juergen Teller, Mario Testino, Wolfgang Tillmans
, and many, many others.
Also available in another Art Edition (No. 1–500)
The artist
Now at the helm of his eponymous and highly successful global brand, Paul Smith came to fashion in an accidental way. At the age of 16, he happened upon a job at a local clothing warehouse in his native Nottingham. After an accident derailed his hopes at a career in cycling, he befriended students at the local art college and was inspired to pursue a career in clothing design. With the encouragement of his future wife Pauline Denyer (an RCA fashion graduate) and a small amount of savings, Smith opened his first shop in 1970. In 1976, he showed his first menswear collection in Paris under the Paul Smith label. In the ensuing years, Paul Smith had established himself as the pre-eminent British designer, currently overseeing 14 different collections, including men's and women's wear, shoes, eyewear, and fragrance.

The photographer
Born in Halle in Germany in 1935, Elmar Ludwig began his apprenticeship as a photographer in Munich in 1951, aged 16. He got his first job with Foto Reger and subsequently spent two years as an assistant to Karl Hugo Schmölz, a well-known architecture and advertising photographer in Cologne. 1962 Ludwig was recruited as a postcard photographer by Irish publisher John Hinde Ltd. He spent the next few years travelling around the world from Britain to Australia and from Canada to the Bahamas. At the end of the 1960s he established his own studio in Munich, specializing in architecture, product and advertising photography.
London. Portrait of a City, Paul Smith Edition No. 501–1,000 'Traffic Policeman'
Edition of 500
Archival pigment print, 68 x 52 cm (26.8 x 20.5 in.), hardcover volume in clamshell box, cover and box design by Paul Smith, 25 x 34 cm (9.8 x 13.4 in.), 552 pages
ISBN 978-3-8365-4306-4
Edition: English, French, German
Download product images here
No reviews have been posted for this item yet. Be the first to rate this product.