Sold Out
Please check with your nearest TASCHEN store just in case
XXL
XXL books are a minimum 39 cm (15.4 in.)
David Hockney. 220 for 2020. Art Edition No. 201–300 'Two Chairs and Rain on Window'
Edition of 100
11-color inkjet print on cotton-fiber archival paper, paper size 102.6 cm x 45.7 cm (40.4 x 18 in.), image size 92.5 cm x 33 cm (36.4 x 13 in.); hardcover, 2 volumes in a clamshell box; Vol. 1: 43.6 x 31.2 cm (17.2 x 12.3 in.), 236 pages; Vol. 2: 28 x 19.8 cm (11 x 7.8 in.), 174 pages
35000
Edition: English
Availability: Sold Out
This edition is sold out. However, occasionally, copies do become available again. Please register on our waiting list so we can inform you if this edition, or anything similar comes up.
Locked down in Normandy, David Hockney closely followed the changing seasons, using his iPad to spontaneously depict his impressions of the surrounding landscape. The project became a lifeline for him, and a message of hope he offered to us. For this artist's book, Hockney has compiled 220 (plus four bonus) iPad paintings from 2020, each illustration tipped in on blue paper stock. The book is accompanied by an extra volume with facsimiles of two sketchbooks created in the build-up to the project.

Art Edition (No. 201–300) with the numbered inkjet print of a sketchbook drawing, Two Chairs and Rain on Window, printed 2021, signed and dated by David Hockney
Sold Out
Please check with your nearest TASCHEN store just in case
XXL
XXL books are a minimum 39 cm (15.4 in.)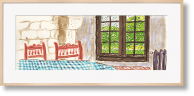 David Hockney. 220 for 2020. Art Edition No. 201–300 'Two Chairs and Rain on Window'
35000
A Year in Normandy with David Hockney
The course of the seasons in an artist's book of iPad paintings
From a small, picturesque farmhouse in the rich fields and meadows of Normandy, David Hockney followed the changing seasons across 2020 and into the new year. He used his iPad to spontaneously depict impressions of the landscape surrounding him, catching the first spring blossoms, the smell of summer, the saturated colors of autumn, and the stark shapes of dark branches in winter time. The 220 (plus four bonus) iPad paintings in this book are printed with up to seven special colors to match the richness of the artist's vision and tipped in on a dark blue paper stock. A short introduction by Hockney reveals how this planned project became a lifeline during the COVID lockdown, from which he spread his message of hope: "Remember they can't cancel the spring."

The book is accompanied by a smaller extra volume of ink and watercolor drawings: the complete facsimiles of two sketchbooks from 2019, starting in the vicinity of the artist's Los Angeles home and following him along scouting trips around Normandy. Both volumes come in a clamshell box with the artist's iPad painting of an aerial view of the Normandy house and garden on the inside of the lid.

Each of the 100 copies of this Art Edition includes an exclusive ink-jet print of a sketchbook drawing the artist made in 2019 upon his arrival in Normandy. Two Chairs and Rain on Window shows the view across a table through a window stained with raindrops into the garden outside and was printed in 2021 under the Hockney's supervision in his Los Angeles studio.

Art Edition (No. 201–300) with a numbered original 11-color inkjet art print on cotton-fiber archival paper of a drawing from the sketchbook 'La Grande Cour, Rumesnil, Normandy, 26th July 2019', titled Two Chairs and Rain on Window, printed 2021, signed and dated by David Hockney

Also available in three additional Art Editions of 100 copies respectively, each with a print signed by David Hockney, and as a signed Collector's Edition (No. 401–2,020).
The artist
David Hockney (born July 9, 1937) is an English painter, draftsman, printmaker, stage designer, and photographer. He first emerged in the early 1960s during the height of British pop, then moved to Los Angeles in 1964, where he famously painted a series of swimming pool pictures. Alongside the classic genres of portraiture and landscape, he always kept evolving his art, using technologies such as Polaroids, photocopiers and fax machines, digital video, or the iPhone and iPad as tools for his painting. Since his first big survey exhibition, which in 1970 traveled Europe from the Whitechapel Gallery in London, he has been one of the most widely shown and popular artists of our time.
David Hockney. 220 for 2020. Art Edition No. 201–300 'Two Chairs and Rain on Window'
Edition of 100
11-color inkjet print on cotton-fiber archival paper, paper size 102.6 cm x 45.7 cm (40.4 x 18 in.), image size 92.5 cm x 33 cm (36.4 x 13 in.); hardcover, 2 volumes in a clamshell box; Vol. 1: 43.6 x 31.2 cm (17.2 x 12.3 in.), 236 pages; Vol. 2: 28 x 19.8 cm (11 x 7.8 in.), 174 pages
ISBN 978-3-8365-8696-2
Edition: English