"A unique book, in its scope and breadth, its boldly time-spanning and contrast-rich design, even its noble-Victorian sense of mission."
Peter Beard. The End of the Game
Hardcover, quarter-bound, in slipcase, 
10.6 x 11.8 in., 
5.54 lb, 
304 pages
100
Edition: English
Availability: In Stock
Peter Beard's landmark book on Africa's wildlife crisis remains a seminal account of a continent transformed by the human quest for adventure and "progress." Featuring Beard's unforgettable images of elephant, rhino, and hippo populations, this edition includes an interview with anti-ivory trade campaigner Dr. Esmond Bradley Martin.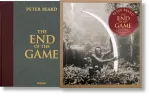 Peter Beard. The End of the Game
100
Game Control
An essential, early portrait of Africa's wildlife crisis
"The deeper the white man went into Africa, the faster the life flowed out of it, off the plains and out of the bush...vanishing in acres of trophies and hides and carcasses." — Peter Beard

A landmark publication on Africa, The End of the Game combines Peter Beard's salient text and remarkable photographs to document the overpopulation and starvation of tens of thousands of elephants, rhinos, and hippos in Kenya's Tsavo lowlands and Uganda parklands in the 1960s and '70s.

Researched and compiled over two decades, and updated several times since with new material, this is Beard's essential book—a powerful and poignant testimony to the damage done by human intervention in Africa. His own images and writings are supplemented by historical photographs of, and quotations from, the enterprisers, explorers, missionaries, and big-game hunters whose quest for adventure and "progress" were to change the face of a continent: Theodore Roosevelt, Frederick Courteney Selous, Karen Blixen (Isak Dinesen), Philip Percival, J. A. Hunter, Ernest Hemingway, and J. H. Patterson.

This new edition includes an interview with conservationist Dr. Esmond Bradley Martin, as well as essays from previous editions by renowned writer Paul Theroux and ecologist Dr. Richard M. Laws, and contributions to the afterword by agronomist Dr. Norman Borlaug. Touching on such themes as distance from nature, density and stress, and loss of common sense, this seminal portrait is as resonant today, amid growing environmental crises, as it was a half century ago.
The editor and author
Peter Beard (1938–2020) began taking photographs and keeping diaries from early childhood. By the time he graduated from Yale University, he had developed a keen interest in Africa. Throughout the 1960s and '70s he worked in Tsavo Park, the Aberdares, and Lake Turkana in Kenya's northern frontier. A constant creator, Beard the chronicler photographed, wrote, drew, collaged, and assembled a history of his life experiences and our own.
Peter Beard. The End of the Game
Hardcover, quarter-bound, in slipcase, 
27 x 30 cm, 
2.51 kg, 
304 pages
ISBN 978-3-8365-8486-9
Edition: English
Download product images here
Beautiful book, but the slipcover is disappointing
The book comes in a cardboard slipcase. Very disappointing and cheap for a gorgeous book like this.
Five Stars
Beautiful book. Well worth the money!
Photos
Magique et envoûtant.
Exploring from home
Such an interesting and stimulating way of exploring a land through the eyes of a photographer I didn't know. Highly recommended.
Ouvrage sublime
Je recommande vivement ce livre. Des prises de vues subliment qui témoignent du massacre fait à la faune du continent africain. Ouvrage extrêmement riche et les clichés hypnotiques.