TASCHEN's Bookstand
Clear Acrylic bookstand, 
5.9 x 13.8 in., 
2.43 lb, 
50
Disponibilità: Disponibile
Il modo perfetto per dare ai tuoi libri TASCHEN preferiti il piedistallo che meritano!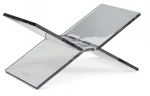 Clear Acrylic Bookstand
The perfect way to give your favorite TASCHEN books the pedestal they deserve!
The glasslike acrylic transparent structure is sturdy enough to support our XL-sized books (excluding horizontal format books and Collector's Editions) and folds flat for transport or storage. It's the perfect way to give your favorite TASCHEN books the pedestal they deserve!
TASCHEN's Bookstand
Clear Acrylic bookstand, 
15 x 35 cm, 
1.10 kg, 
Scarica qui le immagini del prodotto
Sehr eleganter und funktionaler Buchständer
Dieser Buchständer eignet sich hervorragend um größere Werke und Bildbände dauerhaft in den eigenen 4 Wänden auszustellen. Wir sind sehr zufrieden damit.
Bookstand
Stylishly simple, functional and well made. Very useful for reading and also serves as a display stand.
Terrific tool
Holds these massive, beautiful books beautifully.
Beautiful, Elegant, and Well Made!
I have already received so many compliments on my acrylic bookstand! It is just what I needed to elevate my coffee table. I think this bookstand really works well for a smaller table that a stack of books would look too clunky on. I love mine and I'm buying more for Christmas presents!
Perfect way to display these books
Great for tabletop display of the TASCHEN books, especially if you want to focus on one photo or section to encourage guests to flip through.
Not worth it
This is just an overpriced piece of plastic shipped from China. Nothing to the same quality that the books are made of. I would be pressed to say this should really be made of glass. It arrived for me with some plastic scuffs down the middle and was easily the biggest letdown order of the year. Not to mention it DOES NOT work for the XXL books, only the XL. Don't bother.