Hardcover with fold-outs, supplement book, and book stand, 19.7 x 27.2 in., 476 pages
$ 2,500
A limited edition of 9,000 signed and numbered copies, the Annie Leibovitz SUMO presents some of the most famed actors, musicians, artists, writers, athletes, and businesspeople of our time. Available in four different cover photos, this at once intimate and iconic portrait collection is presented with a Marc Newson designed book stand and a supplementary essay compendium.

Coming soon
Archival pigment print (51 x 51 cm / 20 x 20 in.), tripod book stand, set of four dust jackets, leather-bound hardcover volume with fold-outs
$ 5,000
Limited edition of 1,000 copies (No. 1–1,000) with archival pigment print Keith Haring (contact sheet), New York City, 1986, signed by Annie Leibovitz and produced by fine art printer David Adamson in Washington. This leather-bound Art Edition is also presented with the full set of all four dust jackets and a custom-made tripod stand designed by Marc Newson.

New!
Hardcover, 10.2 x 13.4 in., 300 pages
$ 59.99
A dazzling celebration of the world's most popular sport in its most glorious decade. With breathtaking photographs and texts from award-winning football writers, this is a passionate tribute to the game at its most beautiful. Return to the golden age when football first went global, an era of legendary matches, iconic sideburns, and such original soccer superstars as Beckenbauer, Best, Cruyff, and Pelé.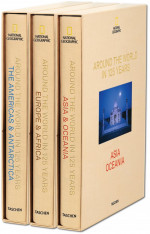 Hardcover, 3 vols. in slipcase, 11.0 x 15.4 in., 1404 pages
$ 499
Exploring the globe since 1888: a journey through time with the world's favorite magazine. Each slipcase turns into a bookstand. Limited edition of 125,000 copies worldwide

New!
Hardcover, 9.8 x 12.6 in., 632 pages
New edition, only
$ 69.99
Original edition
$ 700
Ambitious and engaged, Arts & Architecture magazine celebrated change and innovation across politics, society and especially culture. This selection from the magazine's first five years features the complete covers and has a special focus on the groundbreaking Case Study House Program, one of the most unique and influential events in the history of American architecture.

New!
Hardcover wrapped in a silk scarf, 13.0 x 17.3 in., 724 pages
$ 1,500
Limited and numbered edition of 1,000 copies (No. 101-1,100). Each edition is signed by the artist and wrapped in a silk scarf reproduction of Ai Weiwei's work Straight, a reference to the Sichuan earthquake of 2008. This comprehensive book was made in close collaboration with Ai Weiwei and features paper cut chapter openers designed by the artist, numerous previously unseen images from his archive, as well as statements on his work from exclusive interviews.

New!
Hardcover, 9.4 x 10.1 in., 432 pages
$ 59.99
This celebration of comfort and function coming together in seamless style presents 100 international highlights from the Restaurant & Bar Design Awards, the world's only event dedicated exclusively to hospitality design. Texts from Tony Chambers (editor-in-chief of Wallpaper*), and Marco Rebora, founder of the Awards.

New!
Pigment print (58 x 58 cm / 22,8 x 22,8 in.) in passepartout, 4 hardcover volumes, monolith shaped metallic box
$ 1,500
Limited edition of 250 copies (No. 251-500), all signed by Christiane Kubrick and each coming with a pigment print (on Hahnemuehle PhotoRag paper) Revolving camera and control panel (1965), signed by Brian Sanders and delivered in a ready to frame passepartout

New!
Hardcover in slipcase, 9.6 x 14.6 in., 736 pages
New edition, only
$ 69.99
Original edition
$ 200
Commemorating the 450th anniversary of Michelangelo's death, this scientifically updated edition offers a complete analytical inventory of his painting, sculpture, building and drawing as well as a rich biographical essay discussing the previously under-explored personal traits. The edition's slipcase converts into a book stand, so you can delight in the book on display.

New!
Hardcover with fold-outs, 11.4 x 15.6 in., 612 pages
$ 200
Produced by the Detroit Photographic Company between 1888 and 1924, these rediscovered Photochrom and Photostint postcard images are the very first color pictures of North America. Covering people, places and legendary locales, they provide an epic panorama of the New World of our past. 

Video
The Making of Robert Nippoldt and Daniel Kothenschulte's award winning book
Hollywood in the 30s
, published by TASCHEN. Based on a true story, filmed at Nippoldt's studio in Münster/Germany, 2014.
My Favorite TASCHEN Book Is...
"My two favorites at the moment are Cosmic Communist Constructions with its post-sputnik megalomania, while hidden within the architecture's DNA, almost unconsciously, is a remnant of Socialist purpose—glorious, excessive, and tragic—and Caravaggio, for some of the same reasons."

Illustration by Robert Nippoldt