Hardcover with fold-outs, supplement book, and book stand, 19.7 x 27.2 in., 476 pages
$ 2,500
A limited edition of 9,000 signed and numbered copies, the Annie Leibovitz SUMO presents some of the most famed actors, musicians, artists, writers, athletes, and businesspeople of our time. Available in four different cover photos, this at once intimate and iconic portrait collection is presented with a Marc Newson designed book stand and a supplementary essay compendium.

Coming soon
Hardcover in clamshell box, 12.3 x 17.3 in., 340 pages
$ 750
Hello, gorgeous! On the set, on the road, and in the studio, photographers Steve Schapiro and Lawrence Schiller capture the darling of Broadway as her Hollywood star rises. Featuring over 100 never-before-published pictures.
Limited edition of 1,000 numbered copies, each signed by Steve Schapiro and Lawrence Schiller.

New!
Hardcover, 5.1 x 5.1 in., 128 pages
$ 15
It's time for a reality check with the opposite sex. With a deceptively simple graphic style, leading designer Yang Liu distils the experiences, challenges and many perspectives facing men and women, from age-old clichés to current debates, from boardroom politics to bedroom antics.

New!
Hardcover, 9.0 x 11.4 in., 648 pages
New edition, only
$ 49.99
Original edition
$ 125
The staggering scopes of an Italian master. An updated Renzo Piano monograph, including new photographs of the Modern Wing of the Art Institute of Chicago, Piano's 72-story London Bridge Tower, as well as a sneak peek at his current project, Valletta City Gate in Valletta, Malta.

New!
Hardcover with fold-outs, 11.4 x 15.6 in., 612 pages
$ 200
Produced by the Detroit Photographic Company between 1888 and 1924, these rediscovered Photochrom and Photostint postcard images are the very first color pictures of North America. Covering people, places and legendary locales, they provide an epic panorama of the New World of our past. 

New!
Hardcover, 9.2 x 13.4 in., 568 pages
New edition, only
$ 69.99
Original edition
$ 1,750
Now available as a TASCHEN standard edition with updated appendix, this spellbinding collection of Nobuyoshi Araki's work showcases his best-known subjects: sensual, colorful flowers, and women tied up in kinbaku, the Japanese art of bondage.

"This book reveals everything about me. Photography is love and death—that'll be my epitaph."
—Nobuyoshi Araki

New!
Flexicover with flaps, 7.7 x 9.8 in., 448 pages
$ 39.99
Today's most exciting 150 illustrators from over 30 countries, featuring both personal work and high-profile client projects. With an introduction from Steven Heller.

New!
Hardcover wrapped in a silk scarf, 13.0 x 17.3 in., 724 pages
$ 1,500
Limited and numbered edition of 1,000 copies (No. 101-1,100). Each edition is signed by the artist and wrapped in a silk scarf reproduction of Ai Weiwei's work Straight, a reference to the Sichuan earthquake of 2008. This comprehensive book was made in close collaboration with Ai Weiwei and features paper cut chapter openers designed by the artist, numerous previously unseen images from his archive, as well as statements on his work from exclusive interviews.

New!
Hardcover, relief debossed cover, gilded edges, 10.9 x 9.5 in., 320 pages
$ 69.99
Images from the Michael Stokes collection reveal a side of World War II never before made public—young Allied soldiers discharging tension in boisterous, naked play.

New!
Hardcover, 10.2 x 13.4 in., 300 pages
$ 59.99
A dazzling celebration of the world's most popular sport in its most glorious decade. With breathtaking photographs and texts from award-winning football writers, this is a passionate tribute to the golden age of legendary matches, serious sideburns, and such original soccer superstars as Beckenbauer, Best, Cruyff, and Pelé.

News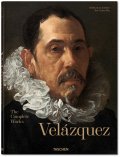 Francisco Pacheco takes the prize!
Thank you to the 7,308 TASCHEN readers who offered their creative input on the cover of our upcoming Velázquez monograph. The results are now in and it's victory to Francisco Pacheco, an artist himself and Velázquez's own teacher. A perfect cover model for a book on "the painter's painter"!

Congratulations to Carlos E. (Argentina), Hernán M. (Chile), José G. (Spain), Jürgen K. (Austria), Lisa N. (USA), Lucas N. (Argentina), Mandi K. (UK), Matthew B. (Australia), Peter A. (Belgium), Sanja S. (Serbia) who will receive a free copy of the published book. And watch this space for further opportunities to contribute to the TASCHEN book design process!
Video
The Making of Robert Nippoldt and Daniel Kothenschulte's award winning book
Hollywood in the 30s
, published by TASCHEN. Based on a true story, filmed at Nippoldt's studio in Münster/Germany, 2014.
My Favorite TASCHEN Book Is...
"My favorite book is Funk & Soul Covers. It contains more stimuli than I could make use of in 20 years. That said, I don't really need stimulation… if at all, then for purchasing records."

Illustration by Robert Nippoldt