New
Hardcover in clamshell box, cloth-bound, 12.3 x 17.3 in., 174 pages
$ 700
Kishin Shinoyama's widely unseen portrait series of John Lennon and Yoko Ono, shot at Ono's request for the cover of the couple's 1980 album, Double Fantasy. With exceptional access to the couple's private apartment, Shinoyama immortalizes this iconic couple at a decisive moment in their personal and creative relationship, and just three months before Lennon's untimely death.

Limited edition of 1,730 numbered copies, signed by Yoko Ono and Kishin Shinoyama.

New
Hardcover, Swiss binding, Japanese cloth, in metallic slipcase, 12.7 x 16.4 in., 456 pages
$ 700
Mario Testino selects his finest male portraiture from the past thirty years. As costume, gender play, photojournalism, tradition, and fashion collide, this Eden of male allure is testimony both to Testino's unfailing eye for immediacy and elegance, and to the evolution of male self-expression.

Limited edition of 1,000 numbered copies, each signed by Mario Testino, bound in Japanese cloth, and delivered in a metal slipcase.

New
Hardcover, 9.4 x 11.9 in., 300 pages
$ 39.99
Voyage over the azure blues of the Mediterranean and find repose along the way in one of the many gems of this refined hotel guide. From charming six-room island hideaways to spectacular Le Corbusier building, this is the ultimate reference for a discerning traveller.

"Wonderful to look at. The only thing that's better is to go there."
— ELLE, Munich

New
Hardcover, 9.4 x 11.9 in., 360 pages
$ 39.99
The ultimate in holiday inspiration, this discerning directory of hotels and guesthouses across Europe brings you gorgeous color images, directions, pricing, and contact information, as well as great literary suggestions for each destination.

"All places where you can melt away from the problems of the real world."
— Living North Magazine, Manchester

New
Hardcover, 9.4 x 11.9 in., 360 pages
$ 39.99
From the Redwood Forest to the Gulf Stream waters, be inspired by the hotels, inns, guesthouses, ranches, wigwams, and treehouses that make up North America's most tasteful and inspiring accommodation.

"Brought to life with dazzling photography, the book guides you to funky, extravagant and far-from-the-maddening crowd hotels encompassing North America."
— Food & Travel, London

New
Hardcover, 7.5 x 10.8 in., 480 pages
$ 39.99
They're not your girls next door. Fashion and fetish in a female fantasyland. Now available in a smaller format for a better price.

"The great quality here is that the power belongs to the subject—any fantasy projected is ultimately her own. To be allowed a glimpse into her world feels like a privilege."
— The Independent, London

Hardcover, clothbound, with fold-out, 8.5 x 13.4 in., 162 pages
$ 49.99
lllustrator Robert Nippoldt and film critic Daniel Kothenschulte team up to pay homage to the golden era of Tinseltown, when silent films became talking pictures, stars got even more glamorous, directors more megalomaniac, and politicians and the mob hankered after just one piece of the dazzling action.

Hardcover, clothbound, with 14 fold-outs and ribbon bookmark, 11.2 x 15.6 in., 324 pages
$ 150
The meeting of two masterminds. Celebrating Dante's 750th anniversary, this compilation with 14 fold-out spreads brings together William Blake's 102 illustrations for the Divine Comedy with excerpts from Dante's immortal, epic poem.

Hardcover, quarter-bound, with ribbon bookmark, thumb index and booklet, 8.7 x 12.6 in., 904 pages
$ 150
A groundbreaking volume offering the most comprehensive overview of GDR visual culture. From fashion photography to secret police surveillance equipment, this unrivalled catalog features more than 2500 artifacts, design pieces, and everyday objects, gathered from the collections of the Wende Museum, Los Angeles.

Hardcover, 6.5 x 9.2 in., 536 pages
$ 39.99
An anthology of the smart, literate gay magazine that also manages to be very fun and very dirty. BUTT editors Gert Jonkers and Jop van Bennekom select the best images and interviews from more than a decade in print.

News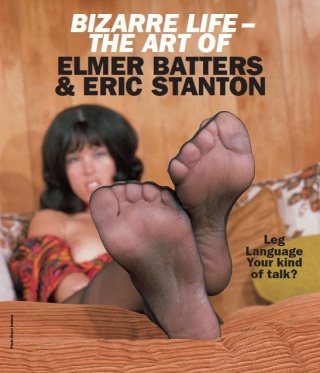 TASCHEN Gallery presents 'Bizarre Life'
Los Angeles, CA – On the evening of March 26th TASCHEN celebrated the opening of Bizarre Life – The Art of Elmer Batters & Eric Stanton at TASCHEN Gallery. Benedikt Taschen and Dian Hanson hosted more than 500 VIP guests for a private preview of the highly anticipated second show at TASCHEN's new Los Angeles gallery space.
Events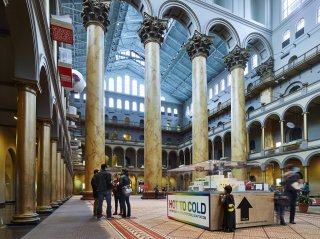 After the global success of
YES IS MORE
, Bjarke Ingels Group (BIG) presents
HOT TO COLD
, an odyssey of architectural adaptation. The book coincides with the HOT TO COLD exhibition at the National Building Museum in Washington DC (January 24 - August 30, 2015) and presents 60 case studies in harsh climate conditions in order to examine where and how we live on our planet.
My Favorite TASCHEN Book Is...