By
Dian Hanson
It started with a phone call in 1994. As editor of Leg Show, JUGGS and Bust Out! magazines I took many calls a day, but this was definitely different. A crisply accented female voice said, "Mr. Benedikt Taschen will be coming to
New York
on (date long since forgotten). You will arrange a restaurant to meet for dinner and call me back with the details." What? TASCHEN was not well known in the U.S. at that time, but two of my
Leg Show
photographers had mentioned working with this German publisher, and there'd been a call from
Elmer Batters
just a couple weeks earlier.
"This Taschen says he wants to make a book of my stuff," I paraphrase. "Says he thinks I'm a great photographer and he'll make me world famous. Guy like me has heard that before." I told him from all I knew TASCHEN was a legitimate publisher. "If you think it's OK, I'll go ahead then, but I sure don't want to be tricked again." Poor Elmer. At 75 any excitement sent his heart racing, but the idea of his leg art in a book, a real book, with a hard cover, was an ancient flame easily rekindled.
Still, I was surprised and intimidated by the call. Despite 18 years of editing sex magazines I remained somewhat introverted, as anxious as excited by any supposedly fun thing. I spoke to one of the photographers who'd had dealings with Benedikt. She said he was a bored, jaded man, and I'd better come up with something extreme to entertain him.
Great.
But it so happened there was a new restaurant in New York called Lucky Cheng's, staffed entirely by cute drag queens who interacted with the diners and danced on the tables. I made a reservation.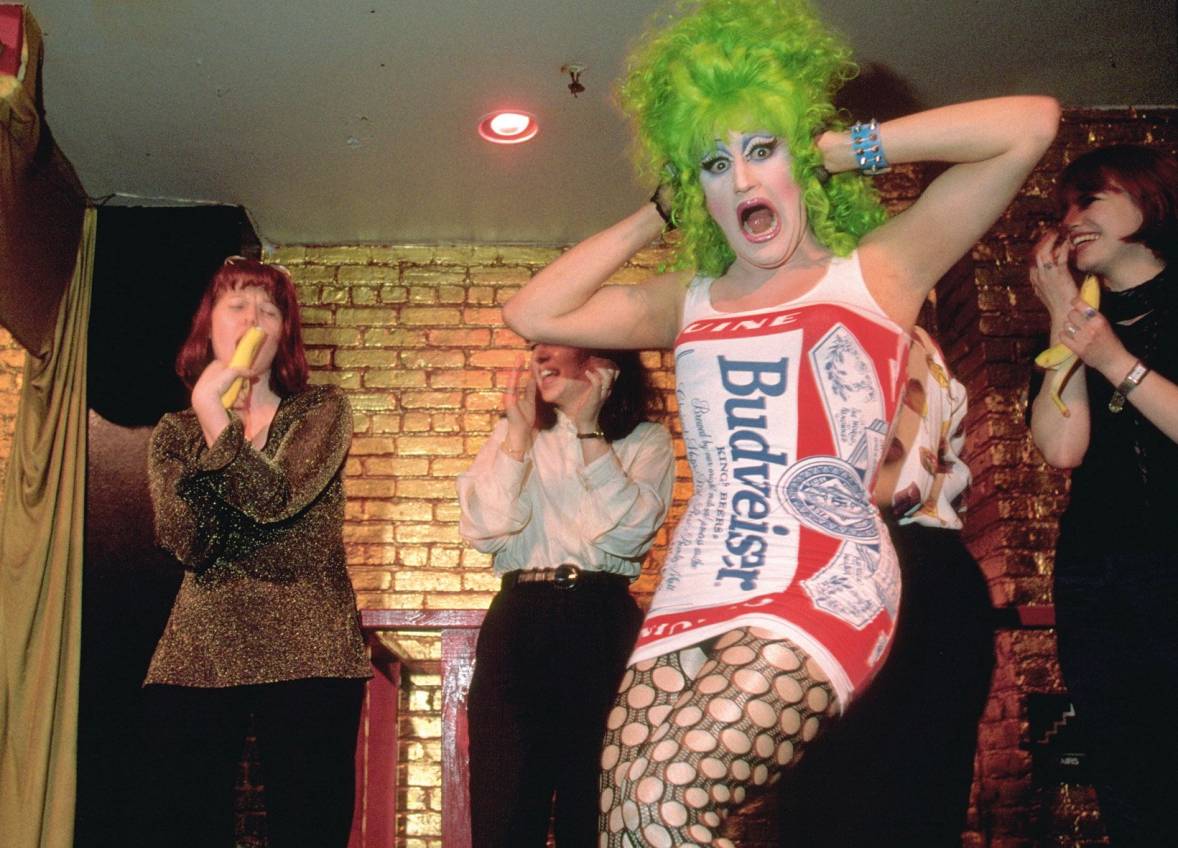 A drag performer at Lucky Cheng's restaurant, Manhattan, 1999. Photo by Michel Setboun/ Corbis Historical.
I arrived early and it was chaos. The ladies were not just dancing on the tables, they were leaping from one to another like spike heeled gazelles. The atmosphere was frat house gone wild, which is to say frat house. When Benedikt was escorted to the table my first thought was, "He's so young!" Like most I'd assumed the head of an international publishing company would be old, or at least older than me, but here was a young man, impeccably dressed in silk and cashmere.
Benedikt Taschen and Elmer Batters, San Pedro, California, 1995. Photo © Eric Kroll
Who knows what we ate? Something mediocre, with sticky cocktails, as the food was not the point at Lucky Cheng's. We tried to talk over the noise. Benedikt seemed distracted and I feared I'd chosen a venue insufficiently kinky to hold his interest. He dropped a handful of tiny books on the table, about three-by-three inches (7.62 cm square), just an idea, one more way to play with the ancient form of books. When he went to the restroom a couple at the next table asked to see the little books, then asked to keep them, intrigued by the novelty and sexual content. New TASCHEN fans born in an instant.
We finally finished, having hardly spoken. We were both tense, uncertain, and Benedikt asked, "Is there another place nearby? Somewhere to have a beer and smoke a cigar?" At that time Lucky Cheng's was in the East Village (it's since relocated to Times Square) so we wandered up seedy 1st Avenue, where Benedikt spied a tiny Mexican restaurant with a single sidewalk table. We sat, ordered beers, he lit his cigar and at last relaxed. We discussed his vision of limitless print possibility, reimagining the staid world of publishing, the pleasure of good fabrics, and family. I realized what my photographer had taken for debauchery was youthful shyness. We ended the evening agreeing to meet for more meals, and so we did, until I joined the company in November 2001. In time I stopped suggesting ludicrous restaurants, but he never stopped showing up in wonderful clothes.
And Elmer's dream of a real book and worldwide recognition came true in 1995.
Do you have comments or questions? Email Dian at
askdian@taschen.com