Guestbook

Page 1 2 3 4 5 6 7 8

9

10
, , Germany

July 04, 2014
AHA! TASCHEN.com feiert also Leni Riefenstahls 100. Geburtstag! Feiert Ihr denn auch andere Nationalsozialistische Geburtstage? Heß? Goebels? Mengele? In den vergangenen Jahren sind zahlreiche Biografien und andere Publikationen zu Riefenstahl erschienen. Die meisten Biografen weisen auf ihre Verbindungen zum Nationalsozialismus hin und heben hervor, dass Riefenstahls Interessen sich sowohl in ideologischer als auch in praktischer Hinsicht mit denen des Dritten Reiches in vielen Punkten trafen. Think about it!
1 Comments to this entry
, , Germany

July 07, 2014
Lieber Max Muster,
vielen Dank für Ihre kritische Zuschrift. Wir sind uns bewusst, dass eine Publikation über Riefenstahls künstlerisches Schaffen – selbst wenn es unter eine zeitlich unbelastete Periode fiel, wie Ihre Arbeiten zu den Nuba – nie unproblematisch sein kann oder gänzlich entkontextualisiert von ihrer politischen Vergangenheit. Wir greifen Ihren Hinweis daher dankbar auf und werden die Ankündigung (unser Buch datiert ja von knapp nach der Jahrtausendwende) entsprechend überarbeiten.
Mit besten Grüßen,
Marie
, , United States

July 04, 2014
When you will start deliver The Making of Stanley Kubrick's '2oo1: A Space Odyssey'?
4 Comments to this entry
, , United Kingdom

July 04, 2014
I asked this question by email and have been told that due to a further printing delay, nothing will be delivered in Europe before 14th July.
This is quite a frustrating delay, now over a month after the launch event. I kind of wish I had decided to collect mine at the event and taken the hit on struggling home with it.
The other frustration is that the customer has to constantly ask for updates.
For a £450 purchase I expect somewhat better service.
, , United Kingdom

July 07, 2014
I would like to share Andrew's frustrations and all those who have pre-ordered(or not)the 2001 book by saying that it has been taking a very long time...
, , Germany

July 07, 2014
Dear Romeu, Andrew and Mark,
We realize you must be eager to receive your copy of this exquisite book. Please accept our apologize for the delay, which was caused by the intricate production process of this limited collector's edition.
Furthermore, quality control is immensely important to us, as we look forward to delivering a product of the highest quality.
To inquire about your individual orders, please send a message to our colleagues in customer service at contact-uk@taschen.com and contact-us@taschen.com
Best wishes,
Marie
, , Canada

July 29, 2014
Firstly, let me say that Taschen's quality is second to none. However, I am disappointed that when there is a delay they do not communicate. My credit card was charged in May (after a direct order through Taschen), credited back at the beginning of July,(for no credible reason), then recharged (leading me to incur transaction and exchange costs). It is now the end of July, and Taschen still has not notified me of what is happening. I attended the 2001 book launch and wished that I had collected at the time. I just get fobbed off when I enquire about the current situation. Please Taschen, do not take your customers for granted. Your products are superb, but customer service requires improvement. I am just trying to be helpful.
, , Slovakia

July 03, 2014
little question: wood architecture now 1 vs 2: why the format (vol 2 is larger) and the cover (softcover - hardcover) has changed? it doesn't look so good on the shelf :)
2 Comments to this entry
, , Germany

July 09, 2014
Dear Marek,
many thanks for your kind question. The answer is quite simple: we had wanted to offer our readers more value, more "book for their buck". We do realize though that there is a number of readers that felt negative about the change, and will consider that for the future, so thanks again for your input!
Best wishes, Florian
, , Slovakia

July 22, 2014
dear florian, thank you for the answer. as for the books that come in series (e.g. arch. now series) i prefer the previous system (smaller format, flexicover). best wishes ;)
, , Germany

July 02, 2014
Guten Tag,

ich sehe gerade, dass die "Kleine Reihe: Kunst" hier auf der Seite nicht mehr zu finden ist. Werden die Bücher nicht mehr gedruckt?

Freundliche Grüße
1 Comments to this entry
, , Germany

July 03, 2014
Lieber Abraham,
vielen Dank für Ihre Nachricht. Aktuell sind die Titel der kleinen Reihe über unseren Online Store nicht bestellbar, gedruckt werden sie aber weiterhin. Unsere Kollegen in den Stores geben Ihnen gerne Auskunft zur Verfügbarkeit vor Ort.
Mit besten Grüßen,
Marie
, , Brazil

June 30, 2014
Gostaria de saber se haverá edição em língua portuguesa dos livros "Gustav Klimt. Obras completas", "El Bosco. La obra completa" e "Miguel Ángel. Obra Completa", e quando estas estarão disponíveis ao leitor brasileiro. Agradeço antecipadamente a cordialidade de vocês. E saibam que sou um grande fã dos livros de arte, arquitetura e fotografia que são publicados por vocês.
1 Comments to this entry
, , Germany

July 02, 2014
Caro João,
Muito obrigada pela sua amável mensagem!
Uma edição em língua portuguesa do livro "Miguel Ángel" estará disponível no Brasil em Outubro de 2014 (nos pontos de venda habituais) e do livro "Gustav Klimt" em Maio de 2015. Infelizmente, não está actualmente prevista uma edição em português de "El Bosco".
Cordiais saudações,
Mahros
, , Spain

June 30, 2014
Enhorabuena al equipo Taschen España, Por fin una tienda a pie de calle con las novedades y fabulosos precios. Espero que se abra más veces o permanente. Saludos y Gracias por vuestra atención
0 Comments to this entry
, , United States

June 29, 2014
Recently purchased a copy of Logorama at Barnes and Noble. This will come in very handy for my model railroading escapades. I LOVED the film on which it is based, and when I saw the book in the store, I was hooked.
0 Comments to this entry
, , Netherlands

June 28, 2014
really annoyed:i bought "tom of Finland"just a few weeks ago for the original prize of Euro 150,00
1 Comments to this entry
, , Germany

July 01, 2014
Dear Rob,
thank you for your feedback. I have forwarded your message to our colleagues in Customer Services, they will reply shortly.
Best wishes,
Marie
, , Germany

June 26, 2014
Hallo TASCHEN-Team,

wird wird es in naher Zukunft vielleicht einen TASCHEN-Store in Hannover geben??? Demnächst öffnet Apple dort seine Tore, da darf TASCHEN doch meiner Meinung nach nicht fehlen! ;-)
1 Comments to this entry
, , Germany

July 02, 2014
Hallo Philipp,
Hannover steht leider erst einmal nicht auf unserer "Liste", aber wir wollen vor Jahresende noch zwei neue Stores in Europa eröffnen. Bald hier dazu mehr!
Beste Grüße, Florian
, , Italy

June 26, 2014
Finally the sale is available in Italy too!
THANK YOU!!!
0 Comments to this entry
Page 1 2 3 4 5 6 7 8

9

10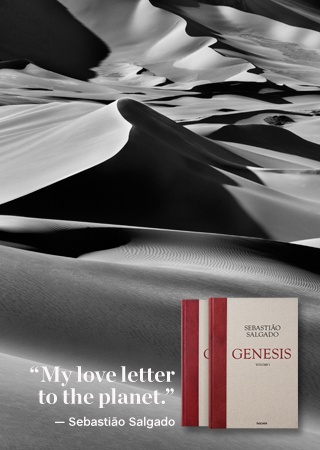 Give us feedback and let us know what you think about our books!