Guestbook

Page 1 2 3 4 5 6 7 8

9

10
, , United Kingdom

May 12, 2014
Hello,

I would selfishly like to add another idea for a book I would personally love to buy and own: a reproduction copy of the 1692 water-colour color-mixing guide for artists by Dutch author A. Boogart. The illustrations are beautiful and it just seems ripe for a gorgeous Taschen edition. http://goo.gl/Qq36aE
1 Comments to this entry
, , Germany

May 14, 2014
Dear Angela,
many thanks as well for this suggestion – it looks indeed like a title that could perfectly well into our historic facsimile program, just besides the Euclid book!
Best wishes,
Florian
, , United Kingdom

May 08, 2014
Hi
Will those who have pre-ordered the new 2001 collectors volume via the website receive an invite to the launch event at the Kubrick Estate?
Thanks
4 Comments to this entry
, , Germany

May 09, 2014
Hi Andrew,
Yes, if you have pre-ordered the collector's or art edition, you will be invited to our launch on June 5th.
Best,
Veronica Weller
, , Italy

May 09, 2014
Hello,
I did pre-order the 500€ from Italy, and of course I would be very, very happy to attend to the party. Are all the pre-orders considered (I mean regardless of the geographical origin?) I would like to know it in order to book a plane in advance (and save some money doing it).
Thank you!
, , Germany

May 12, 2014
Si, Simone, anche i nostri clienti in Italia sono i benvenuti per quest'evento. L'invito arriverà tra poco. Saluti, Veronica
, , Germany

May 30, 2014
Hallo,

leider kann ich der Einladung nicht folgen -wünsche allen Teilnehmern einen tollen Abend!
, , United Kingdom

May 08, 2014
Hello! I love so many genres you publish, but I'm particularly enamoured with the natural history illustration books as you showcase the detail and printing quality of the art better than anyone does and I would never get to see such neat old art otherwise or know they even exist. So thanks for that! But I wanted to see if I could put a bug in the collective Taschen brain to make a book about Beatrix Potter's fungi illustrations. I saw a bunch of them in a film documentary and ever since have been looking for a book of them as they are absolutely gorgeous and no such book exists in print today (at least not that I can find). And seeing how everything Beatrix Potter sells like hotcakes (in the UK at least)….. *hint hint*

Anyway thanks for the Samuel Fallours book in particular- all the kids in my family want to see it when they come over and I have a ton of fun trying to paint my own wonky fish versions using the book as a guide. And the Seba book is my very favourite I own. And I'm looking super forward to exploring the new Book of Palms!

Now just think mushrooms….. :)
1 Comments to this entry
, , Germany

May 12, 2014
Dear Angela, Thank you so much for your enthusiastic comments. I really appreciate your "hint" regarding Beatrix Potter's fungi illustrations. I'll check her work and we'll see if this could work as a Classic title for us. Best Petra
, , Germany

May 07, 2014
Schön, dass bald der Sammelband "Arts & Architecture 1945-1949" erscheint, die Reprintausgabe nahm mir zu viel Platz weg, außerdem wartete ich vergeblich auf den angekündigten zweiten Teil.
Wir es denn bald auch einen Sammelband "Arts & Architecture 1950-54" geben? Werden weitere Sammelbände endlich die Zeit bis 1967 abdecken?

Herzliche Grüße
Marco Hamelmann
1 Comments to this entry
, , Germany

May 08, 2014
Lieber Herr Hamelmann,
vielen Dank für Ihre Nachfrage und Ihr Interesse an Arts & Architecture. Ja, wir planen weitere Sammelbände und hoffen ebenfalls, dass diese diesmal bis 1967 reichen werden, denn es lohnt sich wirklich!
Beste Grüße,
Florian
, , Germany

May 07, 2014
MAGIC ist einfach großartig!
Und der Service ist dementsprechend zauberhaft. Vielen Dank!
1 Comments to this entry
, , Germany

May 08, 2014
Lieber Herr Hartung,
vielen Dank, das freut uns sehr! Vielleicht würde Ihnen dann auch – aus der gleichen Feder – CIRCUS gefallen?
Beste Grüße,
Florian Kobler
, , Germany

May 07, 2014
Hallo, zunächst ein dickes Lob für Ihre tollen Bildbände (Bosch,Klimt,Caravaggio, Rauch, DC Comics ...) Ich warte jetzt schon voller Ungeduld auf Little Nemo im Originalformat ! Jetzt meine Fragen..: ist auch eine Ausgabe von The Kinder-Kids im Originalformat geplant ? oder ein Bildband über Marvel-Comics (analog zu DC)? Herzliche Grüße aus Berlin, Robert
1 Comments to this entry
, , Germany

May 07, 2014
Vielen Dank für das Kompliment! Eine Kinder-Kids-Ausgabe haben wir derzeit nicht geplant, aber natürlich werden wir im Herbst den 75. Geburtstag von MARVEL mit einem großen XL-Band gebührend feiern!
Beste Grüße,
Martin
, , Germany

May 06, 2014
Ich suche ein Buch über die Geschichte der Handtasche. Design, Handwerkskunst, Modelltypen, usw.
1 Comments to this entry
, , Germany

May 12, 2014
Lieber Herr Morgenbrod,
vielen Dank für Ihre Anregung, noch haben wir keinen solchen Titel in unserm Programm, aber was nicht ist, kann ja noch werden?
Beste Grüße,
Florian Kobler
, , United States

May 06, 2014
Nobuyoshi Araki production that is best known in the West, yet with enough limitations, I think it is the most colorful and acceptable to the small group of readers who are described as progressive. Another production Araki much expressive and dramatic value. What is known on this side of the world, even in its recognizable creative quality shows intentionality-confessed by the author of the Japanese-fusion mix that is so prevalent in recent years. A combination of hyperrealism, pop art, porno, porno fashion, more staging and lighting international fashion magazine. For the notion and still averages know this is a known Araki questioning touching sensitive areas of sexuality, including the challenge and even humor in pain, enjoyment and pleasure. I do not believe the accusations of sadomasochistic antifeminist patriarchy that often accuses quick mode, reflecting on the defensive. The truth is that the best of Nobuyoshi Araki is harder and dramatic, is closer to the edge of pornography gets hard but expressively with sharp social profile, testimonial and customs registration. And not only that: the best work of Araki is of great social importance on sexuality and about the entire human condition. And above all, has a dramatic intensity that speaks to the heart of the real and daily genital sexuality.
AMILCAR MORETTI
Buenos Aires-La Plata
Argentina
Erotic of Culture
www.moretticulturaeros.com.ar
0 Comments to this entry
, , Sri Lanka

May 06, 2014
Hi Taschen,

Any plans to release a standard edition of Annie Leibovitz Sumo book?
1 Comments to this entry
, , Germany

May 08, 2014
Dear Thushara Vithanage,
many thanks for your query. We always strive to democratize all our books, so in principle yes – just mind that for Helmut Newton's SUMO, a title of comparable scope, it took us ten years to bring out the smaller edition.
Best wishes,
Florian
, , United States

May 05, 2014
Hey Taschen!

Just wanted to say, I'm a big fan of your American Ads series (of which I own every decade you released), and through them have become an avid fan of your company, having been incredibly impressed with the quality and attention that Taschen affords its products! I noticed you re-introducing the American Ads of the 40's installment for sale online, and was wondering if you guys planned to continue the series at all, in retrospectives on the 90's and the first decade of the 2000's. I'm sure you get this question frequently, but I cannot find any information either way (and believe me, I've looked!). Fingers crossed, but really, great work, always looking forward to what you guys come up with!
3 Comments to this entry
, , United Kingdom

May 05, 2014
Thanks a lot for the nice comments. This is Julius, editor at TASCHEN. The books you mentioned are kind of legendary indeed, but be have also some other books on more contemporary work in advertising that are certainly mind blowing... they are the D&AD series. They are not just beautiful ads, they cover a wide range of creative work, and serve as great inspiration and reference. Lastly, we have also a book we did with Cannes Lions named Game Changers, on the greatest campaigns of the last 60 years, and why they remained relevant. It is worth a check...

http://www.taschen.com/pages/en/catalogue/design/all
/02877/facts.game_changers_the_evolution_of_advertising.htm

Hope you like it!!!
, , United States

May 05, 2014
Thank you for the recommendations! I have just ordered the D&AD 50 Years and Game Changers, they both look like they're right up my alley! I take it that there are no plans as of yet to continue with the American Ads series, though? I mainly ask because a great deal of my childhood and teen years were spent inthe 90's and feel like such a retrospective would greatly appeal to my growing demographic with nostalgia for the decade. Stylistically the nineties are very distinct, and would warrant a dedicated retrospective of their own and I'd be very interested to see what you guys would do with a full scale compilation of American 90's ads. Just my thoughts, but again, really amazing work, always enjoy what you guys do!
, , United States

May 10, 2014
Hi, Mike,
New versions of the '50s and '60s volumes of All-American ads books are slated for early 2015. No plans yet for other decades at the moment, but if we hear from enough people like yourself that could all change. Glad you've enjoyed this classic series.
All best,
Nina
Page 1 2 3 4 5 6 7 8

9

10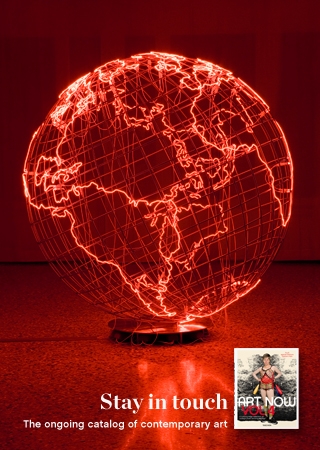 Give us feedback and let us know what you think about our books!