Guestbook

Page 1 2 3 4 5 6

7

8 9 10 11
, , Chile

June 11, 2014
son geniales cada uno de sus libros en todo aspecto,sigan creando y no paren nunca
0 Comments to this entry
, , Germany

June 08, 2014
Wenn ein Verlag sich Jodorowsky's Dune annehmen würde, das wäre toll.
3 Comments to this entry
, , Germany

June 08, 2014
Das wäre wirklich wunderbar! Es hat ein Buch mit einem Großteil des Conzept Artworks und anderen Produktionsnotizen gegeben, das leider nirgends zu bekommen ist- und vermutlich nur ein einer Mini-Auflage erschien (man kann es in 2 Bildern dieses Artikels sehen- und auch in der Doku JODOROWSKY´S DUNE wird es gezeit). Wäre das nicht etwas für eine Neuauflage bei Taschen? Ich liebe mein Napoleon Buch. Und nach diesem Projekt, ist DUNE sicher der 2 beste Filme, der nie realisiert wurde.

Oder wie wäre ein XL Buch über Moebius? Ein solches Werk wäre bei meinem Lieblingsverlag genau richtig aufgehoben!
, , Germany

June 08, 2014
Das war das "Dune book" mit 3.000 Zeichnungen, den genauen Kameraeinstellungen, Kostümen, Gebäuden etc. Das Buch sollte helfen, das Drehbuch den Hollywood Studios schmackhaft zu machen. Somit war es niemals in den Handel gekommen.
In der Filmdokumentation ist dieses Buch tatsächlich zu sehen.
Der Heyne Verlag hat sich übrigens früher Gigers Dune-Entwürfen bedient, um einige der Romane zu illustrieren.
, , Germany

June 10, 2014
Lieber Ulrich und Ralf,
vielen Dank für den hervorragenden Vorschlag bezüglich Jodorowskys "Dune". Wir bekommen zu diesem Titel fast wöchentlich Zuschriften von Fans aus aller Welt und sind auch schon seit ein paar Jahrebn "dran" – die Realisierung nur leider derzeit noch rechtlich unmöglich. Wir arbeiten allerdings mit den beteiligten Künstlern an einer Lösung und würden uns riesig freuen, diesen Titel gestalten zu können. Dasselbe gilt übrigens für eine große Moebius-Monografie!
Beste Grüße,
Florian
, , Brazil

June 07, 2014
Yesterday you made the launch event of the Kubrick's book 2001 The Making Of. So, when the book is available in stock and when the status will be changed to "new"?
1 Comments to this entry
, , Germany

June 10, 2014
Dear Bruno,
the switch to "new" on our website should happen any day now (but may depend slightly from territory to territory, depending from where you log in)!
Thanks for your ongoing enthusiasm for the 2001 book!
Best wishes, Florian
, , United States

June 06, 2014
I do love Taschen books!!!
1 Comments to this entry
, , Pakistan

June 22, 2014
I endorse that... the TASCHEN books are superb.
I wish that re books on contemporary art scene, an advance announcement is made sothat suggestions for inclusion on merit are independently and neutrally made,
, , Spain

May 29, 2014
ME GUSTARIA QUE VOLVIERAN A EDITAR NUEVOS LIBROS DE LIVING, CREO QUE ME FALTAN ALGUNOS DE LOS PRIMEROS.
0 Comments to this entry
, , Brazil

May 26, 2014
Is there a release date for the 2001 making of Stanley Kubrick book?
5 Comments to this entry
, , Germany

May 26, 2014
Dear Bruno,
many thanks for your query – our launch event at the Kubrick Manor is on June 5th, but the books are already available on pre-order!
Best wishes,
Florian
, , Thailand

May 27, 2014
Will the book be shipped prior to the 5th June launch, or after? I note that the release date has changed from "25/05/2014) to "05/2014", and the book's status has changed from "Coming soon" to "New".
, , Nigeria

May 27, 2014
How do one gets photographic book published on your platform?
regards
, , Germany

June 02, 2014
Will there be a cheaper trade edition of the 2001 book in the future, similar to the Napoleon book?
, , Germany

June 02, 2014
Dear Matthew,
the books will be shipped right after the launch on 5th June – for more detailed queries please feel free to address to collectors@taschen.com

Dear Akintunde,
please send a PDF proposal to contact@taschen.com

Dear Paul,
the short answer is yes, and hopefully soon – we are always planning "democratized" editions to all our expensive books. Please bear in mind that the limited edition Napoleon had been sold out within the first month, so we could offer our unlimited edition relatively soon (in that case 1,5 years) thereafter.
Best wishes,
Florian
, , United States

May 26, 2014
Good day,

Have you considered adding a book about Peter Zumthor to your excellent Basic Architecture series?
1 Comments to this entry
, , Germany

May 30, 2014
Dear John,
Many thanks for your kind query! Yes, we have, since we're great fans as well – however, Mr Zumthor preferred to do his very own, self-controlled books, which is of course very much in line with his quite meticulous working methods.
Best wishes,
Florian
, , Greece

May 22, 2014
PERFECT!
0 Comments to this entry
, , Colombia

May 21, 2014
Me parecen fabulosos todos los libros que he consultado de la Taschen sobre todo los de Arte y Diseño, actualmente adquirí el de Hundertwasser en la Feria del libro que se hizo recientemente en Bogotá, esta ha sido mi primer compra, y estoy muy entusiasmada por volverme clienta.
1 Comments to this entry
, , Germany

May 22, 2014
Hola Laura Carolina,
¡Muchas gracias, nos alegra este gran elogio!
Un cordial saludo,
Mahros
, , Canada

May 19, 2014
Greetings to you! Any word when the Rolling Stones book will be published/available to order? Any idea what the price will be also?
2 Comments to this entry
, , United States

May 20, 2014
Dear Stones' fan,Greetings to you too.The book is scheduled for the Fall, and the plan is to release the Collectors Edition and the XL edition at more or less the same time-so more options for you and your fellow Stones' fans. Cheers,Reuel
, , Canada

May 20, 2014
Dear Reuel. Thank you for releasing the XL and collectors edition around the same time. That tells me the collectors is going to be very expensive. Any chance that it will be priced around the Liebovitz SUMO $2,500 or so? Or will it likely be much more expensive? I am steeling myself for not being able to get what I need, or want.
Page 1 2 3 4 5 6

7

8 9 10 11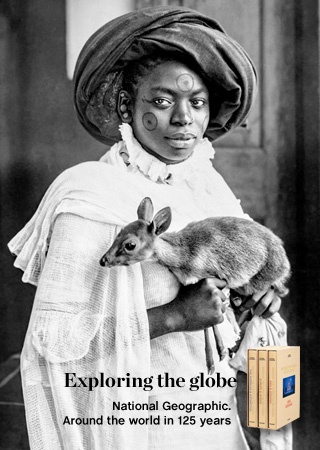 Give us feedback and let us know what you think about our books!