Guestbook

Page 1 2 3

4

5 6 7 8 9 10
, , Germany

July 30, 2014
Ach, TASCHEN...! Über die Qualität eurer Bücher muß gar nichts mehr geschrieben werden. Top-Niveau!! Aber warum lasst ihr meine Ansprechpartnerin im Kundenservice ziehen? Ein Fehler! Selten findet man als kleines Geschäft eine so herzliche und zuvorkommende Betreuung. Liebe Frau Maas, vielen Dank und alles Gute für die Zukunft!
1 Comments to this entry
, , Germany

July 30, 2014
Herr Schieweck, das rührt und ehrt mich sehr! Vielen Dank auch von meiner Seite für die gute Zusammenarbeit! Sie haben ein tolles Geschäft - und wirklich viel Humor – Weiter so!
, , United States

July 30, 2014
I take the sound of crickets from Taschen to my previous question to mean that all those that pre-ordered the Kubrick book from Barnes & Noble are as left out as those that ordered through Amazon UK. And please don't blame 3rd party distributors for this debacle. The fault lies squarely with Taschen. All one had to do is google the book in the months leading up to the release and the FIRST THING that one would see were ads for the book from Amazon UK and Barnes and Noble. Why didn't you have the ads taken down as soon as you saw them? Also, I don't recall seeing anything about this edition being "exclusively" available through Taschen on your website. Please be honest with your customers because these excuses are very transparent.
9 Comments to this entry
, , Germany

July 30, 2014
Dear Dan,
with official confirmation from TASCHEN America pending, I can basically rule out the possibility of Barnes & Noble being able to retail our "2001" book, since we distribute ALL our limited editions only exclusively through our own channels, i.e. our brick and mortar Stores worldwide as well as the Webstore here.
While we understand your anger about being mislead by offers of third party online vendors, I would like to emphasize that we have contacted these companies, but unfortunately they are sometimes inertially slow on such requests. We can only apologize, even though their policies are partly out of our hands!
That said, of course we share your dissatisfaction for not being able to receive your desired product. Please make sure to contact Rob, our collector's concierge under r.hudson@taschen.com to evaluate how we may be able to help you.
Best wishes,
Florian
, , United Kingdom

July 30, 2014
I would like to make a few suggestions for next time.....

1. On your web pages relating to "limited editions" - make it 100% clear which items are ONLY available via your web site and your stores

2. Indicate clearly that your release dates are a guide and keep them accurately updated

3. Advise those that have ordered through either method of changes to despatch plan. Simple to do so just by keeping a mailing list of orderers per title. Communicate.

4. Be transparent about the fact you will increase prices for LE items as stock nears end of the run

All this should be lessons learned from the poor 2001 customer experience
, , Germany

July 30, 2014
Dear Andrew,
many thanks for your kind suggestions.
We have just launched a new customer service tool that should help us tracking and improving the overall communication, and we try to stay very hands-on in our direct communication with customers whenever we can.
You are right that we can and have to do better on communicating timing and retail details – the launch of a new website intended for the end of the year will hopefully bring improvement in this regard and in overall service as well (although timing itself may remain a challenging issue due to our complex production processes).
We have been massively advertising the price increase topic over the past few years e.g. in our magazines – the reason why this sticks out so much in this case is the fact that "2001" sold out so quickly.
But you are right, we will make an effort to find a mode to communicate rapid selling limited editions (such as Rolling Stones) clearer in the future.
In any case we would like to assure you that we are striving to offer only the smoothest customer experience, hence your opinion really matters to us – thank you for your time and your confidence!
Best wishes,
Florian
, , Germany

July 30, 2014
PS: of course I should mention that the Art Edition, which comes with one of two beautiful print options by artist Brian Sanders, is still available – at this point still for the original price!
, , United States

July 30, 2014
Dear Dan,
I am the Sales Director at TASCHEN America and you are right that Barnes & Noble was carrying the book but it sold out very quickly so they may not have been able to fill all orders. In the USA we do sell ltd editions to retailers if available but when they sell out this quickly we cannot always supply them. The quickest solution for you would be to order from one of the 4 USA TASCHEN stores as I believe they still have stock or, as Florian suggested, contact Rob Hudson.
, , Canada

July 30, 2014
So, if available in Taschen Stores in U.S.A., can I assume that they are now being delivered in N. America?
I ordered mine on the Taschen web site in May and still have not been notified of a shipping date, despite asking 3 times, including only last week. Can we have a definitive announcement that they are currently being shipped or not? I was fortunate to see the book at its launch(I traveled cross the Pond to be at this unique event) and I can confirm its superior quality for presentation, artistic merit, content, and print quality. Just hope mine has not been lost somewhere between Europe and Canada!
, , United States

July 31, 2014
Dear Stephen,
I see your order in the system. Someone from our Los Angeles office will contact you today with details on your order.
We'll be in touch.
Very best,
Elissa
, , United States

August 01, 2014
I did contact Rob Hudson as instructed and got no response. All I stated was that really it would have been nice if a customer could prove that they had a pre-order through B&N by forwarding the email that Tashen itself would simply call around its own bookstores and see who had stock and simply offer to ship from one of those bookstores just like other booksellers do. But apparently this was all too much for him. So I guess I'll make a last ditch effort and call around myself.
, , United States

August 06, 2014
Dear Dan,
I apologize for the frustration you've experienced with this title. Please know that I am here to assist and will be happy to do so. Although I don't have you contact details, I am available at 323.463.4441 or r.hudson@taschen.com, and look forward to finding a solution for you.
All my best,
Rob
, , United Kingdom

July 30, 2014
Piers Bizony, The Stanley Kubrick Estate/Archives and TASCHEN...may I say thank you for producing an incredible book of my all-time favourite film '2001: A Space Odyssey'. This massive epic has really done this extraordinary movie justice. Thanks again!
1 Comments to this entry
, , Germany

July 30, 2014
Dear Mark,
Thank you very much for your kind comment, and last but not least for your trust and patience! We're glad to know we were able to deliver to meet the most dedicated fans' expectations and standards.
Best wishes,
Florian
, , United States

July 28, 2014
Hi, I I pre-oredered The making of Stanley Kubrick's 2001 at Barnes & Noble and they state the order is still pending and as far as they know they are getting stock and it will ship on August 1st. Can you confirm that those the pre-ordered through B&N will in fact, get the books or will we be out in the cold as those who pre-ordered through Amazon UK? Can you please let me know definitively as I don't want this $800.00 pending order hanging over my credit card.
0 Comments to this entry
, , United Kingdom

July 27, 2014
I pre-oredered The making of Stanley Kubrick's 2001 last May on Amazon UK and only now that the book is listed as sold out I got a message from Amazon saying that they canceled my order because you have informed them that the book is discontinued and is no longer available. I also got two emails in the past weeks saying that Amazon tried to get information from you about the book, to no avail even if the book was already out. So, despite I acted several weeks before the book publication date, I can't have the product. Very bad behaviour in my opinion, from you and from Amazon as well.
1 Comments to this entry
, , Germany

July 28, 2014
Dear Filippo
Thank you for your feedback.
Please accept our apologies for your issues with Amazon. Our Limited Editions are only ever sold direct through our own website and stores so I'm afraid that Amazon was listing the book without ever having any stock. As soon as we realised that they were listing the book, we asked them to remove it from their site. But since this is a third party site, please understand that we have very little control over it.
The Art Edition A and B are still available at www.taschen.com and our stores worldwide may still have copies of the Collectors edition.
Best wishes,
Marie
, , United States

July 25, 2014
Good Evening! I was wondering if you could divulge any information on your upcoming book on David Bowie by Mick Rock? Do you have an idea approximately how long the book is going to be? Mick Rock said he has over 6,000 photos of Bowie, so that makes me wonder how epic this book is going to be? Also, do you have a publishing date yet for it? Thank you!
1 Comments to this entry
, , Italy

July 28, 2014
Dear Bowie fan,Thank you for getting in touch.We are still in the process of going through Mick's extensive archive,so hard to say how many pages it will be at this point.However,we are confident that the book,which will be released next year,will be the definitive photographic record of the Ziggy years.Cheers,Reuel
, , Germany

July 23, 2014
der versuch , Bücher online in ihrem hause zu bestellen, scheint ein ding der Unmöglichkeit zu sein.
bei nachfragen über Liefertermine etc. hörte ich fast ständig den Satz ….. da kenn ich mich nicht aus, wirrufen zurück.. was dann leider auch nicht passiert.
und dann , bitte …. Rechnungen in englisch abgefasst ? geht offensichtlich nicht mehr in deutsch
Zeitpunkt der Bestellungen Anfang Juni 2014
1 Comments to this entry
, , Germany

July 24, 2014
Lieber Herr Straus,
herzlichen Dank für Ihre Nachricht. Ich hoffe, dass wir in unserem Telefonat alle Rückfragen zu Ihren Bestellungen klären konnten. Wir entschuldigen uns, dass in diesem Fall die Lieferung länger dauerte als erwartet.
Mit besten Grüßen,
Marie Fanger
, , United States

July 22, 2014
Hello. I am just wondering if there are still plans to publish a book of Steve Schapiro's photos on the movie "Chinatown"? I sure hope so as Chinatown is my favorite movie of all time!
2 Comments to this entry
, , United Kingdom

July 24, 2014
Dear David, Sorry to inform you that we have dropped this idea, but we do plan to make another book with Steve Schapiro in the future. best - paul
, , United States

August 04, 2014
I hope you'll reconsider. I loved the Godfather and Taxi Driver books. There aren't many other films from the 70s that can stand alongside these, but Chinatown is definitely one of them.
, , Brazil

July 22, 2014
When will you start deliver the book "The Making of 2001"? I am from Brazil and bought the book by an importing (Skybox.net). I am very anxious.
Thanks.
Bruno.
1 Comments to this entry
, , United Kingdom

July 22, 2014
I noticed that my pre-order details of the 2001 book have gone, now that the collector's edition has sold out. Is it still up despite this? Catherine at Taschen's London office informed me that I will be receiving it soon...
, , Spain

July 19, 2014
Hi,
I just founfd the price of "The Making of 2001" has risen from 500€ to 750. Is this right? Could you please explain the rise in price?
6 Comments to this entry
, , Germany

July 21, 2014
Dear Sergio,
thank you for message.
The price augmentation is indeed due to a decline in stocks, a process that is common to all our limited edition books (and any art or collectible business), and benefits all those who have made their decision early: once we're sold out, our books often climb to even much higher prices.
All preorders made through taschen.com will of course be fulfilled, we're extremely happy how many devoted Kubrick fans have taken the opportunity to secure a copy at the entry price.
Thank you for your consideration, best wishes,
Marie
, , Germany

July 21, 2014
But without having had the chance to even see it it in an actual store, this procedure seems rather daring and unfair.....
, , United States

July 21, 2014
Also very interesting to see the tight-fisted distribution of this title. It doesn't seem to be available to ANY third-party vendors.
, , Germany

July 30, 2014
Dear collector,
please note that this is common practice on all our limited titles (only distributed through TASCHEN's own channels) – we will make all efforts to communicate this even more clearly in the future!
Best wishes,
Floran
, , United States

August 04, 2014
Frankly, I can't remember a time when the price of a Taschen book increased during the pre-order period. Afterwards, yes, but never before. Looks like a shameless money grab to me.
, , United States

August 05, 2014
Taschen should get their story straight. Florian says that Collector's Editions are never distributed to websites like B&N and amazon, but come on: anyone with a computer can find your in-print limited editions all over webstores and at times available at deep discounts (America Swings is on amazon right now at 47% off the list price, Rose C'est Paris at 15%, Christopher Wool at 5% off, and so on). Debra, in another post, explains that B&N did have some copies and they just sold out.

People were trying to buy the book at a discount, and you said no. You have every right to demand full price from your expensive books, but your history with discounts sends your loyal collectors a different kind of message.
Page 1 2 3

4

5 6 7 8 9 10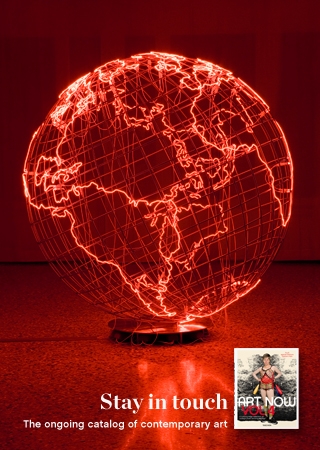 Give us feedback and let us know what you think about our books!