Guestbook

Page 1 2

3

4 5 6 7 8 9
, , Germany

January 21, 2015
Hi, ich bin echt begeistert von euren Büchern!!! Habe grad von eurem Gewinnspiel gelesen und will mitmachen. Allerdings finde ich nicht wie lang das Gewinnspiel geht? Eine weitere Frage ist: Bekommt der erstplatzierte auch einen Gutschein oder festgelegte Bücher?

Würde mich über eine Antwort von euch freuen und dann teilnehmen!

Gruß Jonas
1 Comments to this entry
, , Germany

January 23, 2015
Lieber Jonas,
hier finden Sie alle Informationen zur Teilnahme am #TASCHENsalefie Wettbewerb auf einen Blick: http://bit.ly/taschensalefie_terms
Wir freuen uns auf Ihren Beitrag!
Mit besten Grüßen,
Marie Fanger
, , Germany

January 19, 2015
Gibt es das Stones-Buch für 4000 Euro tatsächlich noch ? Im deutschen Stones-Forum heißt es, es sei ausverkauft. Schade, dass es in Berlin nicht ein Geschäft gibt, wo man das Buch mal in Natur sehen kann.
1 Comments to this entry
, , Germany

January 20, 2015
Lieber Herr Jaschke,
das Rolling Stones Buch ist verfügbar und kann direkt hier in unserem Online Store bestellt werden.
Mit besten Grüßen,
Marie Fanger
, , Germany

January 15, 2015
Hallo liebes Taschenteam

Eure Bücher sind der Knaller.
Richtige Hingucker! (Haha, den fand ich jetzt gut)
Noch besser würde es mir gefallen wenn es endlich einen Laden in Frankfurt oder Wiesbaden geben würde.
Alles gute und viele neue Einfälle für noch viel mehr tolle Bücher. Ich finde bestimmt noch platz im meinem Schrank. Laßt es euch gut gehen.
LGmanfredWeers
0 Comments to this entry
, , Germany

January 15, 2015
Hallo Ihr Lieben,

das Jahr ist ja nun schon etwas älter, aber ich wünsche allen TASCHEN-Mitarbeitern verspätet ein wundervolles 2015!!
Meine Frage: was ist mit Berlin?? Wann kann man mit der Eröffnung eines Stores rechnen???
Herzliche Grüße
Kerstin
1 Comments to this entry
, , Germany

January 31, 2015
Schade, dass hier scheinbar nicht mehr geantwortet wird!!!!!!
, , Finland

January 13, 2015
Dear Taschen,
I'd like to see a book showing their print ads:
http://en.wikipedia.org/wiki/List_of_frivolous_political_parties
0 Comments to this entry
, , Germany

January 09, 2015
Vielen Dank für die wundervollen und vorallem vollständigen Kunstbändern im XXL-Format wie zB. Leonardo, Michelangelo, Carravaggio, Velazquez etc).
Sind in Zukunft noch weitere Künstlerbände in diesem Format geplant?
Über Raffael, Tizian, Rubens, Rembrandt, Dürer, Renoir, Gauguin uvm würde ich mich sehr freuen.
1 Comments to this entry
, , Germany

January 12, 2015
Lieber Herr Lindner, haben Sie vielen Dank für Ihr positives feedback. Derzeit arbeiten wir an einer Reihe weiterer xxl-Monographien. Vermeer, van Eyck und Rembrandt sind die nächsten, andere folgen. Mit besten Grüßen, Petra Lameres-Schütze
, , Brazil

January 09, 2015
Antes de mais nada, um feliz 2015 a toda vossa equipe editorial por excelência.

Gostaria de saber sobre três assuntos. O primeiro é com relação à revista. Gostaria de saber quando chegará ao Brasil para os cadastrados no site (no caso, eu e outros que ainda não receberam a revista);

Segundo: gostaria de saber se há planos de reimpressão de livros como "Miró", de Walter Erben; "Klimt", de Gottfried Fliedl, além de tantos outros da série dos 25 anos da Taschen com mais de 200 páginas. Sou apaixonado por eles e já tenho inclusive uma coleção expressiva deles;

Terceiro e último: se há previsão de termos em língua portuguesa aqueles livros de arte em XL Format (obra completa de pintura), tais como Hieronymus Bosch, Velázquez, Gustav Klimt, Michelângelo, entre tantos outros.

Antecipo agradecimentos pela resposta de vocês. Abraços cordiais a todos vocês, independendo de que país sejam. E que vocês possam encantar ainda mais o mundo com os livros de vocês, que são verdadeiras jóias editoriais.
1 Comments to this entry
, , Germany

January 12, 2015
Caro João Carlos A. Nascimento,

Muito obrigada pela sua mensagem, pelo carinho e pelo interesse em nossa produção editorial.
Afim de responder às suas perguntas lhe pedimos de por favor contatar o nosso atendimento ao cliente através do e-mail contact-e@taschen.com .
O nosso time conta com uma brasileira que poderá ajudar-lhe.
Lhe desejamos um feliz 2015 e agradecemos mais uma vez o apoio e carinho.

Atenciosamente,
Marie Fanger
, , Mexico

January 08, 2015
Hola a Todos!!!! Feliz año 2015!!!
Solo queria saber cuando más o menos me llegará la revista actual de la editorial!!!?... como siempre son los mejores. Saludos
2 Comments to this entry
, , Spain

January 26, 2015
Apreciado Carlos,
ya debería haberte llegado, avísanos si no es así, o chequea con qué dirección te has dado de alta,
saludos cordiales y muc8692has gracias por tu mensaje
, , Mexico

January 27, 2015
Apreciada María Eugenia :
Te informo que hasta el momento no me ha llegado el ejemplar de la revista actual, he estado pendiente de mi correspondencia y ya cheque mi dirección y es correcta, inclusive el envio anterior fue el catalogo de las ediciones de coleccionista y llego correctamente!!! Que hago para recibir mi revista!!!
Un abrazo para todos, espero con ilusión sus nuevas publicaciones sobre cine!! podrias adelantarme algo al respecto??!!!
Feliz 2015
, , United States

January 06, 2015
Any possibility of supporting wish lists on your website?
1 Comments to this entry
, , Germany

January 09, 2015
Yes, soon!
, , United States

January 06, 2015
Hey taschen team I just wanted to know are there any upcoming Walt Disney books coming out anytime soon????!
1 Comments to this entry
, , Germany

January 06, 2015
Dear Audrey,
Many thanks for the query – we're planning to publish the first volume in a whole series by the end of the year – please stay tuned!
Best wishes, Florian
Page 1 2

3

4 5 6 7 8 9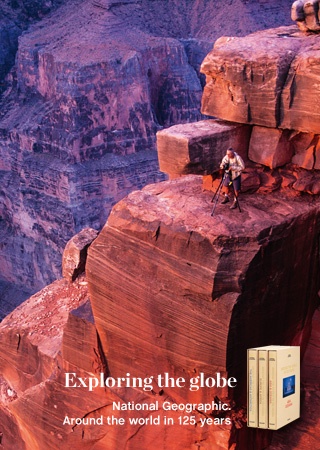 Give us feedback and let us know what you think about our books!