Guestbook

Page 1

2

3 4 5 6 7 8 9 10 11
, , Germany

August 23, 2014
Hallo Taschen,

ich überlege mir das neue Kubrick-Buch in der Art-A-Edition zu kaufen. Gibt es ein deutsches Begleitheft zu dem Buch?

Schöne Grüße
1 Comments to this entry
, , Germany

August 25, 2014
Hallo Thomas,
eine deutsche Übersetzung liegt bislang noch nicht vor, eine spätere Buchhandelsausgabe (die noch zu gestalten wäre) würde diese dann aber sicherlich beinhalten.
Beste Grüße,
Florian
, , France

August 22, 2014
bonjour,
je reviens vers vous afin d'avoir une information mise à jour sur la date de parution des trois derniers tomes (the bronze age, the dark age et the modern age) sur DC COMICS.
Un de ces tomes contiendra t'il la frise qui était disponible dans le gros volume ?
Merci de votre réponse
1 Comments to this entry
, , United States

August 26, 2014
Dear Ludovic,
The current plan is to release the Bronze Age book in Spring of 2015, with other editions coming thereafter.
Regarding the timeline – they are planned to be exclusive to the original big book. But don't worry, all the new material included in the 3 upcoming volumes will more than make up for it!
Best,
Josh
, , Canada

August 21, 2014
Hi. Just wondering if you know yet when your book on Arnold Schwarzenegger is going to be published/available to order? I can't wait to see the cover and pictures from inside the book!! :)
3 Comments to this entry
, , Germany

August 25, 2014
Dear Niki,
currently this heavyweight is scheduled for 2015 – we'll keep you informed!
Best wishes,
Florian
, , United States

August 26, 2014
Glad to hear that Arnold is still in the pipeline! Do you anticipate a early or late 2015 release? Thanks!!! :)
, , Germany

August 28, 2014
Dear Niki,
at this point it is still too early to predict the precise date, thanks for your patience!
Best wishes,
Florian
, , Mexico

August 17, 2014
Hola Amigos, saludos desde Nayarit Mexico, primero que nada felicitarlos por la excelente variedad de libros de arte que manejan, los colecciono y valoro mucho, por lo que quisiera saber si van a reeditar los libros de Eugene Delacroix y de Alfonse Mucha, ya que no los puedo conseguir. Y espero saquen a la venta proximamente la version economica de Albert Oehelen. Gracias
1 Comments to this entry
, , Spain

August 20, 2014
Hola Rafael, en efecto, reeditaremos Mucha en breve, este otoño, pero Delacroix, aún no. Muchas gracias por tus comentarios y por seguirnos,
saludos cordiales
, , United States

August 14, 2014
I see that Taschen is working on a book of Michael Muller's Shark photographs. Can't wait for this one! Is it going to be one of your limited collector edition books? Thank you-Doug
0 Comments to this entry
, , United States

August 11, 2014
Hi. A previous poster inquired if there were any plans to publish a photo book on Chinatown. The answer was no. I am wondering if there are plans to publish a photo book on another film? The Godfather and Taxi Driver books were truly wonderful, and I am hoping that Taschen is going to continue that series. If you are planning to publish another limited edition film monograph book, could you give us a hint on what it will be? Thank you.
1 Comments to this entry
, , United Kingdom

August 13, 2014
Hi Bill,
Sorry, nothing definite at the moment, but as soon as something is confirmed we'll let you know. Meanwhile, plenty more film books coming your way...
best
-paul
, , United States

August 11, 2014
I received my 2001 book last Friday and it is absolutely amazing- Great work Taschen! Here's a small video I made when unboxing my set.
https://vimeo.com/103074074
3 Comments to this entry
, , Germany

August 11, 2014
Great video! The book looks amazing, especially the Monolith case.

http://taschensnumber1fan.tumblr.com/
, , Canada

August 12, 2014
Great unboxing video.
My copy arrived today. Excellently packed. Heavy, since contents are both the solid books and the metal monolith container. Contents gorgeous. Top quality. Thank you Amy Quinn at Taschen, USA, for all of your help in helping my order get delivered. For those who did not get the 1000 series, the art edition will be an excellent choice and surprisingly still seems to be available.
, , United States

August 13, 2014
My pleasure, Stephen! I hope you enjoy this wonderful title.
, , United Kingdom

August 10, 2014
Dear Marie,
thank you for your kind - albeit not strictly true - reply: I bought a limited edition copy of your Stanley Kubrick's Napoleon book on Amazon.uk, as a pre-order, exactly as I did a few months ago with the 2001 limited edition book. I am not in a position to explain why what worked fine a few years ago didn't today. Maybe you are.
Regards.
0 Comments to this entry
, , Thailand

August 08, 2014
By the way, Taschen's pages about The Making of Stanley Kubrick's 2001: A Space Odyssey still say that it consists of 4 hardcover books. In fact, there are 2 hardbacks (looking very impressive in their metal slipcase) and 2 paperbacks.
1 Comments to this entry
, , United States

August 11, 2014
Indeed the two Hardbound books in the set are actually soft...The Covers are embossed w/Logos..and covered with a nice book sleeve. I was put off at first with the paperback design to be sure.. However.... found it to be to my liking... It's easier to move through the pages since the outer cover yields to the hand....
Best-
Philster
, , Belgium

August 08, 2014
Au hasard d'un surf, j'arrive sur votre site. J'en suis très heureuse car, alors que grande amatrice de votre collection sur les différents arts architecturaux (roman, gothique, ...), j'avais été informée de l'arrêt des éditions Taschen. Je vais donc non seulement pouvoir implémenter ma collection mais en prime offrir des cadeaux "intelligents" (rien de tel qu'un beau livre plutôt qu'une tablette ... mais c'est un autre débat!). Merci !
0 Comments to this entry
Page 1

2

3 4 5 6 7 8 9 10 11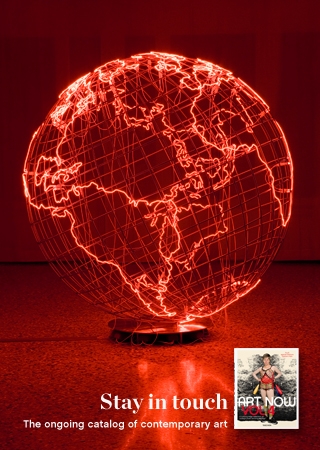 Give us feedback and let us know what you think about our books!