Guestbook

Page 1

2

3 4 5 6 7 8 9 10 11 12 13
, , Germany

March 31, 2014
Sehr geehrte Damen und Herren, ist Ihr Verlag auch an einem Manuskript für ein Kunstbuch eines vergessenen Malers interessiert? Welchen Weg muß ich gehen? In ca. sechs Wochen ist ein druckfähiges Layout fertig. Würde mich über kurze Info freuen. Freundlichen Gruß. H.A.
1 Comments to this entry
, , Germany

March 31, 2014
Lieber Herr Arndt,
bitte senden Sie Ihren Vorschlag an contact@taschen.com.
Mit besten Grüßen,
Marie Fanger
, , Denmark

March 25, 2014
Kære Per Frederiksen,

Vil blot sige dig tak for din hurtige ekspedition af bogen, Peter Beard-bog, som jeg bestilte lidt i kl. 17 i mandags og fik leveret på min arbejdsplads med 'posten' dagen efter. Som lovet. Og ganske gratis.

Og bogen faldt i dén grad i god smag hos modtageren. Overvejer at købe et eksemplar til mig selv, fascinerende værk.

De bedste hilsener

Annette Houman
1 Comments to this entry
, , Denmark

March 27, 2014
Kære Annette,

Tusinde tak for din tilbagemelding! Det glæder mig meget at høre at du er tilfreds med ekspeditionen, og at bogen faldt i god smag!
Denne udgave af Peter Beard bogen er utrolig vellykket, og så indeholder den faktisk et par enkelte billeder som ikke var med i den oprindelige udgave.
Jeg sørger for at du også modtager vores magasiner fremover, så du kan følge med i alle vores nye udgivelser.
På gensyn i butikken.

Bedste hilsner,
Per Frederiksen
, , Germany

March 24, 2014
Hallo liebes TASCHEN-Team,
warum sind die Bilder und Beschreibungen in den Kalendern "Meisterwerke im Detail 2013" und "Meisterwerke im Detail 2014" exakt die gleichen, lediglich in vertauschter Reihenfolge? Glaubt ihr etwa, dass sich eure Kunden diesen Kalender nicht noch einmal kaufen, nachdem sie ihn einmal hatten, oder schätzt ihr eure Kunden als so vergesslich ein, dass sie sich die Bilder von einem Jahr auf's nächste nicht merken können? Mein Bruder hatte den Kalender im letzten Jahr und fand ihn so toll, dass er ihn für dieses Jahr erneut bekommen hat. Aber er ist sehr enttäuscht, dass er dieses Jahr in dem Kalender keine neuen Bilder und Beschreibungen sieht.
Viele Grüße
Franzi
2 Comments to this entry
, , Germany

March 25, 2014
Liebe Franzi,
vielen Dank für die kritische Nachfrage – wir stecken hier in einem klassischen Dilemma:
Wir wissen, dass unsere Kalender – insbesondere der zu den Meisterwerken – äußerst populär sind und immer wieder nachgefragt werden. Gemessen an der Anzahl der Tage im Jahr jedoch hat unser "Meisterwerke im Detail" schlicht nicht genügend verschiedene Inhalte, um Jahr für Jahr komplett neue Kalender zuammenzustellen. Trotzdem wollen wir auch neuen Kunden jedes Jahr aufs Neue die Chance bieten, dieses tolle Produkt kennen und schätzen zu lernen!
Es tut uns leid, wenn wir dabei bei Ihnen falschen Anschein erweckt haben sollten.
Bitte melden Sie sich doch bei uns unter contact@taschen.com, damit wir Sie angemessen kompensieren können.
Beste Grüße,
Florian
, , Germany

March 25, 2014
Lieber Florian,
vielen Dank für die schnelle Antwort. Die Gründe sind natürlich nachvollziehbar.
Schöne Grüße,
Franzi
, , Germany

March 24, 2014
Bin immer wieder begeistert davon welch tolle Werke erscheinen. Herzlichen Glückwunsch dem Verleger Benedikt Taschen und seinem Team. Siemachen KunstundKultur anfassbar.
1 Comments to this entry
, , Germany

March 24, 2014
Vielen Dank, lieber Herr Szyperski, für Ihre freundliche Nachricht – eine stets willkommene Ermunterung zum Weitermachen!
Beste Grüße,
Florian Kobler
, , United States

March 17, 2014
Some months back various websites claimed that Taschen was going to be printing a complete Winsor McCay Little Nemo 1905-1927 collection, with the assumed release date on April 1. Many book shopping websites still list this volume as coming soon, but there's nothing on your website. Did the book get cancelled (did it ever exist?)?
3 Comments to this entry
, , United States

March 18, 2014
I emailed Taschen the same question weeks ago and never heard back. I hope the book is still happening.
, , Germany

March 19, 2014
Dear Zach, dear Brent,
The book will be released in June. Detailed information will be available here on our website in May.
Best wishes,
Martin
, , United States

March 25, 2014
Thank you for the update, Martin. I look forward to ordering a copy.
, , France

March 14, 2014
Bonjour,
Un ouvrage consacré à Gustave Doré serait-il envisageable ?
Cordialement,
1 Comments to this entry
, , Germany

March 17, 2014
Chère Steffi, il y a déjà beaucoup de réeditions de l'oeuvre de Gustav Doré, c'est une raison pour laquelle nous n'avons pas encore décidé d'en faire une autre. Mais dans notre édition sur Dante et "La Divne Comédie" nous aurions naturellement des illustrations de Gustav Doré.
Bien à vous,
Petra
, , New Zealand

March 13, 2014
Hello people at Taschen!

Thanks for producing these great books!

Please consider making a book on Pieter Brueghel the Elder similar to that of Hieronymus Bosch.
1 Comments to this entry
, , Germany

March 17, 2014
Dear Tomas,
Many thanks for your kind message, we will definitely consider your interesting proposal concerning a large format volume on Pieter Brueghel the Elder!
Best wishes, Mahros
, , Brazil

March 10, 2014
Tenho Vários livros da Taschen, sou um apaixonado por arte, principalmente a arte do renascimento. gostaria que a Taschen lançasse um livro mais abrangente sobre o renascimento.
1 Comments to this entry
, , Germany

March 11, 2014
Caro Fábio,
Muito obrigada pela sua excelente proposta!
Cordiais saudações, Mahros
, , France

March 06, 2014
J'ai reçu en parfait état l'edition collector de pinxit de mark ryden, que dire à part sublime tant pour le contenu que pour la qualité du livre, merci pour l'envoi rapide et l'emballage soigné. Vincent.
0 Comments to this entry
, , United Kingdom

March 05, 2014
Is there a release date and price for the new 2001 Stanley Kubrick book?
5 Comments to this entry
, , Germany

March 06, 2014
Dear Doug,
many thanks for checking in on 2001. We're printing soon (we hope there will be quite a few nice surprises in stock for all Kubrick/Sci-Fi-fans and collectors) and aim for a late April release – information on print run, pricing, and availabilities here on our website very shortly! Best wishes,
Florian
, , United Kingdom

March 06, 2014
I am so excited over this book speaking as a life-long 2001 fan!
, , United Kingdom

March 10, 2014
Excited for this release!
, , United Kingdom

March 19, 2014
Will this 2001 book be published as a Collector's Edition also?
, , Germany

March 20, 2014
Dear Mark,
Thanks for your request.
There will be indeed two special editions of the book that come with an art print. If you want to be one of the first who are informed once these editions can be ordered, please write to my colleagues at collectors@taschen.com
Best,
Kathrin
Page 1

2

3 4 5 6 7 8 9 10 11 12 13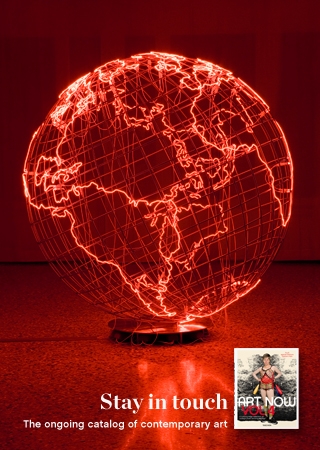 Give us feedback and let us know what you think about our books!