Guestbook

Page 1 2 3 4 5 6 7 8 9

10
, , Sri Lanka

May 06, 2014
Hi Taschen,

Any plans to release a standard edition of Annie Leibovitz Sumo book?
1 Comments to this entry
, , Germany

May 08, 2014
Dear Thushara Vithanage,
many thanks for your query. We always strive to democratize all our books, so in principle yes – just mind that for Helmut Newton's SUMO, a title of comparable scope, it took us ten years to bring out the smaller edition.
Best wishes,
Florian
, , United States

May 05, 2014
Hey Taschen!

Just wanted to say, I'm a big fan of your American Ads series (of which I own every decade you released), and through them have become an avid fan of your company, having been incredibly impressed with the quality and attention that Taschen affords its products! I noticed you re-introducing the American Ads of the 40's installment for sale online, and was wondering if you guys planned to continue the series at all, in retrospectives on the 90's and the first decade of the 2000's. I'm sure you get this question frequently, but I cannot find any information either way (and believe me, I've looked!). Fingers crossed, but really, great work, always looking forward to what you guys come up with!
3 Comments to this entry
, , United Kingdom

May 05, 2014
Thanks a lot for the nice comments. This is Julius, editor at TASCHEN. The books you mentioned are kind of legendary indeed, but be have also some other books on more contemporary work in advertising that are certainly mind blowing... they are the D&AD series. They are not just beautiful ads, they cover a wide range of creative work, and serve as great inspiration and reference. Lastly, we have also a book we did with Cannes Lions named Game Changers, on the greatest campaigns of the last 60 years, and why they remained relevant. It is worth a check...

http://www.taschen.com/pages/en/catalogue/design/all
/02877/facts.game_changers_the_evolution_of_advertising.htm

Hope you like it!!!
, , United States

May 05, 2014
Thank you for the recommendations! I have just ordered the D&AD 50 Years and Game Changers, they both look like they're right up my alley! I take it that there are no plans as of yet to continue with the American Ads series, though? I mainly ask because a great deal of my childhood and teen years were spent inthe 90's and feel like such a retrospective would greatly appeal to my growing demographic with nostalgia for the decade. Stylistically the nineties are very distinct, and would warrant a dedicated retrospective of their own and I'd be very interested to see what you guys would do with a full scale compilation of American 90's ads. Just my thoughts, but again, really amazing work, always enjoy what you guys do!
, , United States

May 10, 2014
Hi, Mike,
New versions of the '50s and '60s volumes of All-American ads books are slated for early 2015. No plans yet for other decades at the moment, but if we hear from enough people like yourself that could all change. Glad you've enjoyed this classic series.
All best,
Nina
, , Germany

May 03, 2014
Hallo,

Ihr habt gefragt, welche Sachen noch fehlen, drei Vorschläge hätte ich:
- Sneaker, Also Bilder von SneakerCulture und Sneakern
- Fantasy /ScyFi Bilder, ich weiß ein Thema der 80/90er aber DAS definitve Buch fehlt noch
-Computergraphics, hier gehts wahrscheinlich auch in Richtung der Fantasy Bilder aber es gibt da so PromoBilder für Spiele u.ä.

Grüße
Henrik
1 Comments to this entry
, , Germany

May 05, 2014
Lieber Henrik,
vielen Dank für die drei schönen Vorschläge, denen wir gerne nachgehen! Insbesondere bei den Computergrafiken wird jedoch die Auflösung die größte Herausforderung darstellen, da sie in vielen Fällen für ein brillantes Druckergebnis leider nicht ausreichen wird.
Beste Grüße,
Florian
, , Germany

May 01, 2014
Liebes TASCHEN-Team,

ist vielleicht ein neues, größeres Buch vom Regisseur Paul Verhoeven geplant? Für mich ist er einer der besten Regisseure und ein neues Buch würde mich sehr interessieren...

Liebe Grüße,
Phil
1 Comments to this entry
, , Germany

May 01, 2014
Hallo Phil,
ein solches Buch ist aktuell nicht in Planung – aber wir hatten ja vor ein paar Jahren zumindest ein mittelgroßes Buch zu ihm im Programm, das sicher noch antiquarisch erhältlich ist.
Beste Grüße,
Florian
, , United States

April 27, 2014
Hello there! I was looking through my copy of your wonderful Collectors Edition catalog and I noticed on a piece of paper that was included with it a mention of a book called "The Fight" by Norman Mailer, Howard Bingham and Neil Leifer. The fight refers to the "Rumble in the Jungle" fight between Ali and Foreman. This year is the 40th anniversary of that fight. Are you still planning on publishing this book, or has it been postponed/cancelled? thanks!!!!
2 Comments to this entry
, , Germany

April 28, 2014
Dear Doug,
many thanks for the attentive reading of our catalogue – "The Fight" is still on track for publication along with the 40th anniversary of this memorable event.
Best wishes,
Florian
, , United States

April 29, 2014
that is great news! I will definitely be on the lookout for the book! It will serve as a great sequel to GOAT!!! Doug
, , Colombia

April 26, 2014
Cada libro es una verdadera obra de arte por su presentacion, materiales, diseño y contenido.
0 Comments to this entry
Page 1 2 3 4 5 6 7 8 9

10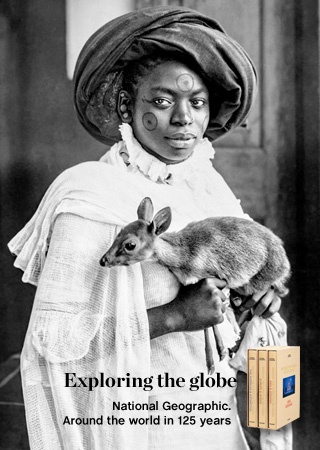 Give us feedback and let us know what you think about our books!