Guestbook

Page 1 2 3 4 5 6 7 8 9

10
, , Germany

May 03, 2014
Hallo,

Ihr habt gefragt, welche Sachen noch fehlen, drei Vorschläge hätte ich:
- Sneaker, Also Bilder von SneakerCulture und Sneakern
- Fantasy /ScyFi Bilder, ich weiß ein Thema der 80/90er aber DAS definitve Buch fehlt noch
-Computergraphics, hier gehts wahrscheinlich auch in Richtung der Fantasy Bilder aber es gibt da so PromoBilder für Spiele u.ä.

Grüße
Henrik
1 Comments to this entry
, , Germany

May 05, 2014
Lieber Henrik,
vielen Dank für die drei schönen Vorschläge, denen wir gerne nachgehen! Insbesondere bei den Computergrafiken wird jedoch die Auflösung die größte Herausforderung darstellen, da sie in vielen Fällen für ein brillantes Druckergebnis leider nicht ausreichen wird.
Beste Grüße,
Florian
, , Germany

May 01, 2014
Liebes TASCHEN-Team,

ist vielleicht ein neues, größeres Buch vom Regisseur Paul Verhoeven geplant? Für mich ist er einer der besten Regisseure und ein neues Buch würde mich sehr interessieren...

Liebe Grüße,
Phil
1 Comments to this entry
, , Germany

May 01, 2014
Hallo Phil,
ein solches Buch ist aktuell nicht in Planung – aber wir hatten ja vor ein paar Jahren zumindest ein mittelgroßes Buch zu ihm im Programm, das sicher noch antiquarisch erhältlich ist.
Beste Grüße,
Florian
, , United States

April 27, 2014
Hello there! I was looking through my copy of your wonderful Collectors Edition catalog and I noticed on a piece of paper that was included with it a mention of a book called "The Fight" by Norman Mailer, Howard Bingham and Neil Leifer. The fight refers to the "Rumble in the Jungle" fight between Ali and Foreman. This year is the 40th anniversary of that fight. Are you still planning on publishing this book, or has it been postponed/cancelled? thanks!!!!
2 Comments to this entry
, , Germany

April 28, 2014
Dear Doug,
many thanks for the attentive reading of our catalogue – "The Fight" is still on track for publication along with the 40th anniversary of this memorable event.
Best wishes,
Florian
, , United States

April 29, 2014
that is great news! I will definitely be on the lookout for the book! It will serve as a great sequel to GOAT!!! Doug
, , Colombia

April 26, 2014
Cada libro es una verdadera obra de arte por su presentacion, materiales, diseño y contenido.
0 Comments to this entry
, , France

April 24, 2014
Bonjour,
Envisagez-vous de mettre une nouvelle ville à l'honneur avec votre série de magnifiques livres "Portrait d'une ville".
Si oui, quelle ville et quand ?
Cordialement
2 Comments to this entry
, , Germany

April 25, 2014
Bonjour Céline,
merci de votre question. Oui, il y a des plans de couvrir une des plus belles villes en Amérique du Sud dans cette série, mais il en faudra encore un peu de patience…
Bien à vous,
Florian
, , France

April 25, 2014
Buenos Aires ? :)
, , United States

April 21, 2014
Hi. I see that you are working on a book of photographs of David Bowie by Mick Rock. Are you planning to publish it this year? And do you know yet approximately how many pages the book is going to be? A few years ago a publisher named Genesis released a book of Rock's Bowie photos. It was about 350 pages or so and I was wondering if this new version will be greatly expanded from that book. Thank you!
1 Comments to this entry
, , United States

April 24, 2014
Dear Darren,We are working towards an early 2015 release.Right now,Mick Rock is delving deep into his incredible David Bowie archive,and finding many images that have never been seen before.We are very excited about the book.Best wishes,Reuel
Page 1 2 3 4 5 6 7 8 9

10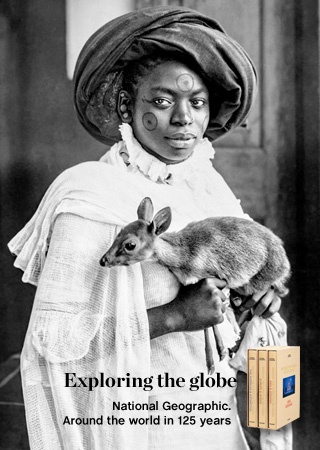 Give us feedback and let us know what you think about our books!