News
Magazine
Subscribe to TASCHEN's free printed magazine or read the current issue online.
News
The Rolling Stones Closing Party:
"This will be the last time.."
Saturday, February 28 marked the closing of TASCHEN's inaugural show at its new TASCHEN Gallery in Los Angeles: It's Just A Shot Away: The Rolling Stones in Photographs. Over 1000 guests including legendary photographer Guy Webster who shot the Stones in 1966, attended the closing event to celebrate this momentous exhibition.
Read more...
Video
Photographer Kishin Shinoyama introduces his beautiful portrait series of John Lennon & Yoko Ono, available for pre-order now as a Limited Edition and two Art Editions.
Events
After the global success of YES IS MORE, Bjarke Ingels Group (BIG) presents HOT TO COLD, an odyssey of architectural adaptation. The book coincides with the HOT TO COLD exhibition at the National Building Museum in Washington DC (January 24 - August 30, 2015) and presents 60 case studies in harsh climate conditions in order to examine where and how we live on our planet.
News Archive
Page

1

2
TASCHEN Gallery
LA Gallery Closing Party
February 27, 2015
TASCHEN and KCRW invite you to the Closing Party

Saturday, February 28
7-9 PM

TASCHEN Gallery
8070 Beverly Blvd.
Los Angeles, CA 90048
News
And the nominees are…
January 15, 2015
We're thrilled that SALT OF THE EARTH, Wim Wenders documentary on our star photographic collaborator Sebastião Salgado - GENESIS has been nominated for Best Documentary in the Academy Awards 2015
News
TASCHEN Winter Sale
January 14, 2015
From 22-25 January, you'll find 50%-75% discounts in all our TASCHEN stores and at www.taschen.com. That's a minimum of half price on titles spanning cutting-edge design, jaw-dropping photography, and unearthed art historical treasures.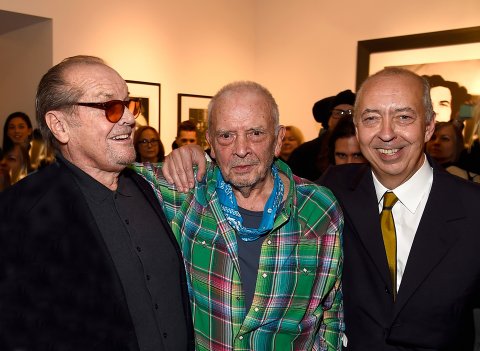 Actor Jack Nicholson, photographer David Bailey, and publisher Benedikt Taschen
© Getty Images for TASCHEN

img
TASCHEN Gallery
December 14, 2014
Los Angeles, CA – On the evening of December 13th, TASCHEN and David Bailey celebrated the opening of the TASCHEN Gallery in Los Angeles, bringing to life the historic, SUMO-sized Rolling Stones book with the exhibition It's Just a Shot Away: The Rolling Stones in Photographs. Over 700 people packed the gallery space, from rock 'n' roll legends and their die-hard fans, to industry luminaries from the art, fashion and music worlds, all clamoring for a chance to meet the legendary David Bailey. The energy was palpable.

TASCHEN Gallery
8070 Beverly Blvd.
Los Angeles, CA 90048
​la-gallery@taschen.com

Click to view the prints on display
TASCHEN Gallery
December 12, 2014
From December 13th until January 31st, TASCHEN presents the exhibition "IT'S JUST A SHOT AWAY: THE ROLLING STONES IN PHOTOGRAPHS" in its first Gallery in Los Angeles.

TASCHEN Gallery
8070 Beverly Blvd.
Los Angeles, CA 90048
​la-gallery@taschen.com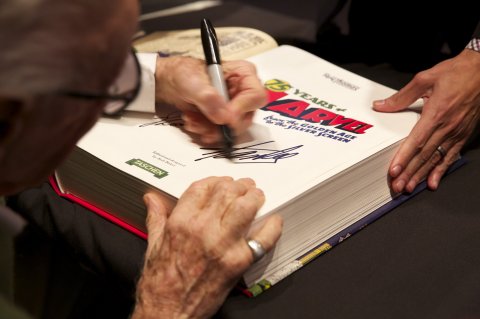 Stan Lee signs "75 Years of Marvel" © Photo: Dalmiro Quiroga
img
News
December 09, 2014
On the afternoon of December 6, The Hammer Museum & TASCHEN hosted a panel discussion with comic icon Stan Lee, author Roy Thomas, and special guest moderator and filmmaker Kevin Smith, in celebration of 75 Years of Marvel Comics. From the Golden Age to the Silver Screen.
To watch the entire discussion on video click here
Events
TASCHEN at Art Basel Miami Beach
December 04, 2014
Please visit us at Entrance Hall B, Space T1
December 4-7, 2014
News
November 21, 2014
Sebastião Salgado has received the insignia of Commander of the order of Arts and Literature in Paris from the French Ambassador, Jean Cadet, at the Residence of His Excellency Mr. José Mauricio Bustani, the Brazilian Ambassador to France.

Page

1

2