TASCHEN 365 Day-by-Day. New York - See also
Page

1

2
Hardcover, 9.8 x 13.4 in., 560 pages,
$ 69.99
The soul of New York. A photographic journey through the history of the world's greatest city

Flexicover, 12 vols. in slipcase, 4.7 x 6.5 in., 1536 pages,
$ 59.99
Travel wisdom in your pocket. Get around New York, Paris, Berlin, and London in style

New
Hardcover with ribbon bookmarks, 11.0 x 11.0 in., 500 pages,
$ 49.99
The history and making of SNL since 1975.
In celebration of SNL's 40th anniversary: the complete history of the show, on stage and behind the scenes—made with full access to the SNL archives

Hardcover, 9.4 x 12.4 in., 300 pages,
$ 39.99
It's up to you, New York, New York! Inside the world's most energetic melting pot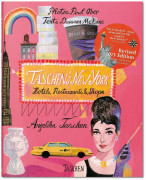 New
Hardcover with thumb index, 9.4 x 11.9 in., 392 pages,
$ 39.99
In New York, it's all about who you know: and now you're connected. With this updated version of our city guide in hand, the Big Apple is yours for the biting. Cut-out tabs make it easy to flip through, and a pocket-sized map of Manhattan lists all the recommendations for hotels, shops, restaurants, cafes, and bars.

"Get it booked – shop, sleep and eat like a native New Yorker."
— Stylist, London

Hardcover, 6.7 x 8.5 in., 736 pages,
$ 29.99
Start every day in style. A century's worth of chic

Hardcover, 6.7 x 8.5 in., 748 pages,
$ 29.99
Botanical bliss. Give yourself flowers every day of the year!

Hardcover, 6.7 x 8.5 in., 744 pages,
$ 29.99
Feed your mind with a daily dose of cinema: TASCHEN's perpetual calendars

Hardcover, 6.7 x 8.5 in., 736 pages,
$ 29.99
They'll always be there for you: A new pin-up to brighten your every day

Hardcover, 6.7 x 8.5 in., 736 pages,
$ 29.99
Surf's up! Wake up on the cusp of a wave

Page

1

2
Hardcover, 6.7 x 8.5 in., 736 pages

$ 29.99
"Each day of the year is marked by its own stunning picture, offering a constant source of inspiration, and being a gorgeous work of art in its own right. Perfect!"
— Image Magazine, Dublin, Ireland