Menu Design in America, 1850–1985 - See also
Page

1

2
Hardcover, clothbound with jacket, with 6 fold-outs and ribbon bookmark, 11.4 x 15.6 in., 612 pages,
$ 200
Produced by the Detroit Photographic Company between 1888 and 1924, these rediscovered Photochrom and Photostint postcard images are the very first color pictures of North America. Covering people, places and legendary locales, they provide an epic panorama of the New World of our past.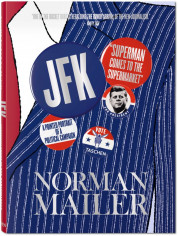 New
Hardcover, 11.4 x 15.6 in., 370 pages,
$ 150
Norman Mailer's pro-JFK profile and seminal New Journalism showpiece "Superman Comes to the Supermarket," originally published in Esquire in 1960, now rediscovered in photo book form. Alongside the complete Mailer portrait of JFK as the "existential hero," see Kennedy's campaign and personal life captured by such photojournalistic greats as Cornell Capa, Jacques Lowe, Paul Schutzer, and Garry Winogrand.

Hardcover in slipcase, 9.9 x 15.0 in., 544 pages,
$ 69.99
The history and legacy of the circus

Hardcover in slipcase, 9.9 x 15.0 in., 544 pages,
New edition, only
$ 69.99
Original edition
$ 200
Illusion, enchantment, and wonder: the world's greatest magicians from the Middle Ages through the 1950s

Hardcover, 9.8 x 13.4 in., 572 pages,
$ 69.99
Rise and sprawl: how Los Angeles came to be. A pictorial history of the City of Angels

Hardcover, 2 vols. in slipcase, 9.4 x 13.2 in., 720 pages,
$ 59.99
Mad for ads. Advertising for the space Age—Zoom back in time to the 50s and 60s!

Hardcover, 9.8 x 12.8 in., 384 pages,
$ 59.99
Published in connection with an exhibition at the prestigious Musée du quai Branly in Paris, this history of Tiki from urban archaeologist Sven Kirsten explores one of the most colorful pop culture phenomena of mid-century America. Through hundreds of previously unpublished images and ephemera, trace the Tiki trend from the first Pacific island exploration to Hollywood jungle fantasies and elaborate temples built to celebrate Tiki as the god of recreation.

Flexicover, clothbound, with ribbon bookmarks and thumb index, 6.6 x 9.4 in., 744 pages,
$ 39.99
This fully revised and updated second edition of the best-selling New York Times travel guide offers 150 weekend trip itineraries across North America, including 29 new destinations.

"A go-to guide for quick and inspired getaways."
—Martha Stewart's Whole Living, New York

Hardcover, 8.3 x 10.8 in., 704 pages,
$ 39.99
Tracing 1940s America through advertising, this new hardcover collection edited by Jim Heimann follows the ads of the United States through the propaganda of war to the mass consumerism of peace.

"The ads themselves, besides being graphically stunning, are as eloquent about mid-century Americans as any eyewitness report."
—The Wall Street Journal, New York

New
Hardcover, 9.4 x 11.9 in., 360 pages,
$ 39.99
From the Redwood Forest to the Gulf Stream waters, be inspired by the hotels, inns, guesthouses, ranches, wigwams, and treehouses that make up North America's most tasteful and inspiring accommodation.

"Brought to life with dazzling photography, the book guides you to funky, extravagant and far-from-the-maddening crowd hotels encompassing North America."
— Food & Travel, London

Page

1

2
"Menu design: a must have for any foodie. Just hot off the press is this great book by TASCHEN: Hundred Years of Menu Designs…We love it!"
— Tasteandliving.com, Belgium