Mid-Century Ads - See also
Page

1

2
Hardcover, clothbound with jacket, with 6 fold-outs and ribbon bookmark, 11.4 x 15.6 in., 612 pages,
$ 200
Produced by the Detroit Photographic Company between 1888 and 1924, these rediscovered Photochrom and Photostint postcard images are the very first color pictures of North America. Covering people, places and legendary locales, they provide an epic panorama of the New World of our past.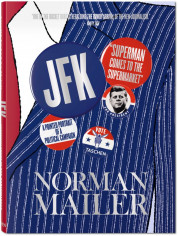 Hardcover, 11.4 x 15.6 in., 370 pages,
$ 150
Norman Mailer's pro-JFK profile and seminal New Journalism showpiece "Superman Comes to the Supermarket," originally published in Esquire in 1960, now rediscovered in photo book form. Alongside the complete Mailer portrait of JFK as the "existential hero," see Kennedy's campaign and personal life captured by such photojournalistic greats as Cornell Capa, Jacques Lowe, Paul Schutzer, and Garry Winogrand.

Hardcover in slipcase, 9.9 x 15.0 in., 544 pages,
$ 69.99
The history and legacy of the circus

Hardcover, 9.8 x 12.4 in., 312 pages,
$ 69.99
Where great ideas come to roar: The campaigns that changed the advertising industry forever

Hardcover in slipcase, 9.9 x 15.0 in., 544 pages,
New edition, only
$ 69.99
Original edition
$ 200
Illusion, enchantment, and wonder: the world's greatest magicians from the Middle Ages through the 1950s

Hardcover, 9.8 x 13.4 in., 572 pages,
$ 69.99
Rise and sprawl: how Los Angeles came to be. A pictorial history of the City of Angels

Softcover with jacket, 9.8 x 12.5 in., 360 pages,
$ 59.99
Celebrating 50 years of excellence in design and advertising, and the people who made it happen

Flexicover with thumb index, 6.6 x 9.4 in., 776 pages,
$ 59.99
Signs of our times: a monumental logo compilation

Hardcover, 9.8 x 12.5 in., 392 pages,
$ 59.99
Appetite for art: over one hundred years of menu graphics

Hardcover, 9.8 x 12.8 in., 384 pages,
$ 59.99
Published in connection with an exhibition at the prestigious Musée du quai Branly in Paris, this history of Tiki from urban archaeologist Sven Kirsten explores one of the most colorful pop culture phenomena of mid-century America. Through hundreds of previously unpublished images and ephemera, trace the Tiki trend from the first Pacific island exploration to Hollywood jungle fantasies and elaborate temples built to celebrate Tiki as the god of recreation.

Page

1

2
"If you're a graphic design nerd, a marketing guru looking for a coffee table book or just a lover of pop Americana, trust us, you want this for your collection."
— Huffingtonpost.com, New York, United States