Fifty years of slightly slutty behavior
Art Edition of 200 copies, each signed by Vanessa and coming with a signed watercolor lithograph of Vanessa by acclaimed artist Robert Crumb.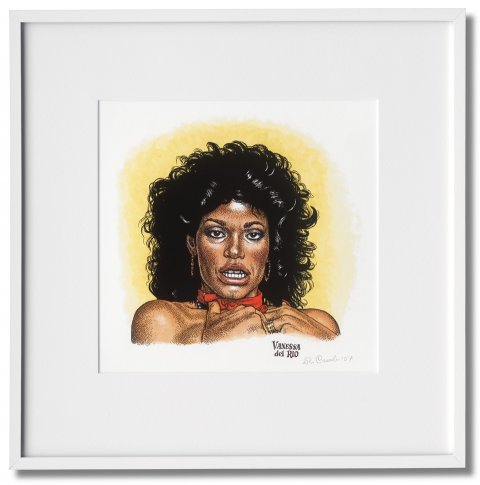 Vanessa del Rio
, by Robert Crumb
(Frame not included)
The TASCHEN Golden Ticket inserted at random in one of the 1,500 copies has still not been found! The lucky winner will enjoy an all-expenses paid evening with Vanessa, documented by a world famous photographer!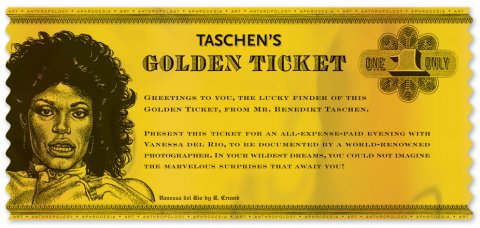 "She is a person I dreamed about having sex with. She should go in the hall of fame for best sex scenes in the '80s."
-
Snoop Dogg
"Her whole body and whole gestalt is so amazing. She was the real thing and not being seen, not being recognized. A true Amazon."
-
Robert Crumb
"She is a role model for every woman who wants to express and enjoy her sexuality."
-
Foxy Brown
Back in 1974, the sexual revolution was in full swing and the adult entertainment business was on the verge of becoming Big Business.
Deep Throat
had created America's first porn star in 1972, but by 1974
Linda Lovelace
was already retired and the industry was seeking the next big thing.
Vanessa del Rio
should have been that thing, except in 1974 there were no ethnic sex stars. Undeterred, Vanessa took any role they'd give her, because, amazingly, she was there for the sex more than the money. Fans, awed by her ferocious onscreen sexuality, made her a top box office draw and
America's first Latina star
. Retired since 1986, Vanessa del Rio remains a sexual icon who cuts across all ethnic boundaries.
What her fans don't know is that her real life was, and is, as wild as anything she did on film
.
In this sumptuous over-sized volume, TASCHEN celebrates a remarkably candid, confident and exuberantly sexual woman. Presented through Vanessa's own archive, in her own words, is a life at once shocking, titillating, amusing, and inspiring. And because paper and ink can't do justice to a personality this big,
an original 140 minute DVD documentary is included
. If you aren't already convinced, this book will end all doubt that there could ever be another woman like Vanessa del Rio.
The author:
Dian Hanson
was born in Seattle in 1951. For 25 years she produced various men's magazines, including
Puritan
,
Juggs
and
Leg Show
, before becoming TASCHEN's sexy book editor in 2001. Her many books for TASCHEN include
The New Erotic Photography Vol. 2
and
Robert Crumb: Sketchbooks 1982-2011
. She lives in Los Angeles.
Vanessa del Rio, Art Edition

Dian Hanson

Hardcover in clamshell box with DVD and print in portfolio

, 11.8 x 11.8 in.,

396

pages

$ 1,800
"While this may be the best book we've ever seen about a porn star, it's also the most expensive. The bio of the world's first ethnic porn star has two editions, the art edition and the collector's edition. And, while we wish we wouldn't have to sell a kidney to buy it, it's worth every penny. The pictures alone tell the story of a woman of Amazon proportions, who actually did it for the sex. She is a rarity in her field, not only in stature and appearance, but in her ability to embrace her inner-slut."
— Box Magazine, San Francisco, United States
Robert Crumb. Sketchbooks 1982-2011
Hardcover, 6 vols. in slipcase with print in portfolio, 8.1 x 10.6 in., 1344 pages


$ 1,000





1,344 pages = Classic Crumb. Includes a signed, authenticated color art print of a collectible Crumb original. Limited edition of 1,000 copies

Robert Crumb's Sex Obsessions
Hardcover in slipcase with print, 8.0 x 10.8 in., 258 pages


$ 1,000



Limited edition of 1,000 signed copies. Every part of the book was created for this project by Robert Crumb. Each book also comes with a pigment print by Mr. Crumb.