"Somehow the Devil got me!"
Crumb's personal selection of his most secret fantasies, freshly colored just for TASCHEN
They have little to do with the standard procreative urge, Mr. Crumb admits. He has also said he finds nothing more boring than someone else's sexual obsessions, and yet through his long career the world's most famous underground cartoonist has felt compelled to include his own sex fantasies in his art. He explains it as a compulsive catharsis, while fans call R. Crumb's erotic fantasies the Master at his best.
Now Crumb has selected his most intimately revealing comic strips and single page drawings to create a
258 page encyclopedic trip through his sexual psyche
. All images were created between 1980 and 2006, and all strips are hand-colored for a lush vibrancy never seen in his comic books. In total the book features 14 complete stories, including
My Troubles With Women, If I Were a King, A Bitchin' Bod
, and
How To Have Fun With a Strong Girl
, as well as 60 single page drawings.
The artist admits it's a little scary to see his most fevered obsessions collected end to end like this, but fans will find
Robert Crumb's Sex Obsessions
a fascinating peek inside an often tortured, always brilliantly talented mind, as well as an unparalleled collector's item.
This signed limited edition of 1,000 copies is a work of art in itself, with every part of the book—front and back covers, spine, and introductory pages—created for this project by Robert Crumb. Each book also comes with a pigment print by Mr. Crumb.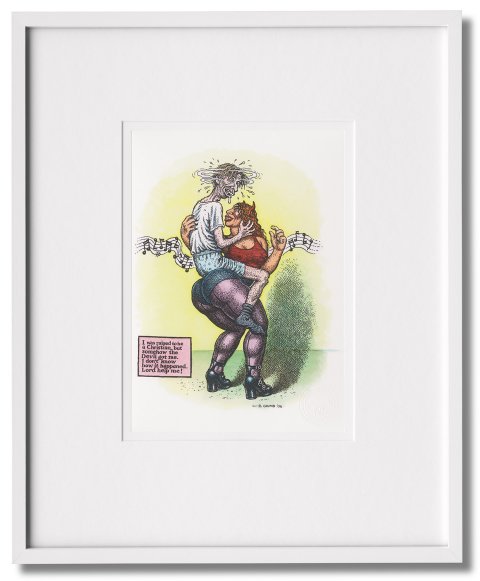 Crumb, '06
26,7 x 20 cm / 10.5 x 7.9 in.
(Frame not included)
The artist:
Robert Crumb
was born in Philadelphia in 1943 and was encouraged by his older brother Charles to draw comics in childhood. He credits his mid-'60s LSD use with turning him to the underground style that made his fame, best illustrated in the comics
Zap
,
Snatch
,
Big Ass
,
Weirdo,
and
Hup
. He has released scores of books, including TASCHEN's
Sex Obsessions
(2007), and is the subject of the biographical film
Crumb
(1994). He lives in France with his wife, Aline Kominsky-Crumb.
The editor:
Dian Hanson
produced a variety of men's magazines from 1976 to 2001, including
Juggs
,
Outlaw Biker
and
Leg Show
, before becoming TASCHEN's Sexy Book editor. Her 60+ books for TASCHEN include
The Art of Pin-up
and
Psychedelic Sex
. She lives in Los Angeles.  
| | |
| --- | --- |
| | Robert Crumb's Sex Obsessions |
"Cartoonist R. Crumb compiles his favorite illicit drawings in one funny (and often) disturbing package."
— G.Q., New York, United States
Vanessa del Rio, Art Edition
Hardcover in clamshell box with DVD and print in portfolio, 11.8 x 11.8 in., 396 pages


$ 1,800



Fifty years of slightly slutty behavior. Limited edition of 200 copies

Robert Crumb. Sketchbooks 1964–1982
Print in portfolio (pen and ink on paper, hand-colored lithograph), paper size 25,5 x 20 cm (10 x 7,9 in.), 6 hardcover volumes in slipcase


$ 1,000



The best of Crumb, selected by Crumb. Reproduced directly from the artist's original sketchbooks, this six-book box set features Robert Crumb's personal curation of what he considers his best work from his prolific early period of 1964–1981. Includes a handwritten introduction, many original color works and a signed, authenticated color art print.
Limited edition of 1,000 copies.