William Claxton
William Claxton passed away on October 11th in Los Angeles
William Claxton passed away on October 11th in Los Angeles. Born and raised in Southern California, William Claxton holds a special place in the history of American photography. Since his earliest pictures in the 1950s, he has been creating photographs that have garnered attention for their intimate yet soulful feel. Always noted for his sensitive and poetic style, Claxton has long been considered the preeminent photographer of jazz music. His jazz imagery has graced the covers of countless albums and magazine covers for over five decades.
In 1952, while a student at UCLA, Claxton began to photograph a young and unknown trumpet player named Chet Baker. The resulting collection of images from these sessions has become known throughout the world of jazz music.
Since his early career – shooting for
Life, Paris Match
, and
Vogue
, among other magazines – Claxton has worked with and become friends with many Hollywood luminaries, including Frank Sinatra and Steve McQueen. Well-known in the recording world, Claxton is one of the founding members of The Recording Academy, producers of the Grammy Awards. In 2003, he was awarded the distinguished
Lucie
at the International Photography Awards.
In the 1960s, Claxton collaborated with his wife, the noted fashion model Peggy Moffitt, to create a stunning collection of iconic fashion images featuring the revolutionary designs of Rudi Gernreich. A Claxton-directed film from the era, Basic Black, is considered by many to be the first "fashion video" and is now part of the collection of the Museum of Modern Art in New York. To this day, the Claxton/Moffitt/Gernreich images from this era continue to be hailed as masterful examples of modern style. As the author of thirteen books and subject of dozens of exhibitions, William Claxton enjoyed a worldwide audience for his work.
William Claxton, born October 12, 1927, died from complications of congestive heartfailure in his hometown Los Angeles. He is survived by his wife Peggy Moffitt and his son Christopher. His publisher Benedikt Taschen says: "Bill was very close to my heart and a pillar of our publishing house. He was a great photographer and a wonderful man who touched the lifes of his friends through his generosity, charme and kindness."
--------------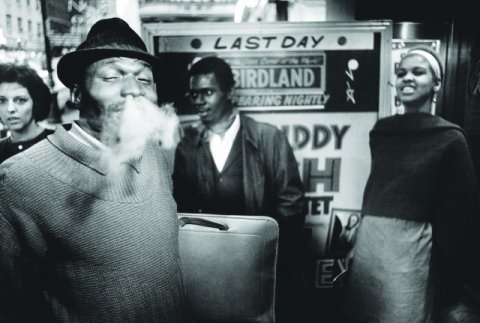 Drummer Elvin Jones outside Birdland, Manhattan, New York City. Photo: William Claxton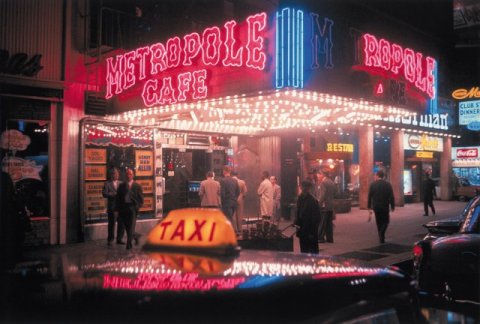 The Metropole Café on Broadway near Times Square, New York City. Photo: William Claxto
n

William Claxton. Photo: Steve Crist

Art Pepper climbing the hill on Fargo Street in Los Angeles near his home symbolizing his up-hill struggle with his drug addiction and his career. Photo: William Claxton

Philly Joe Jones (left) and Larance Marable, Falcon Lair, Beverly Hills. Photo: William Claxton