China rewind
By Liu Heung Shing. Excerpt from the book 'China. Portrait of a Country'

Page
1
2
3
Slow Boat to China

My introduction to China as a professional photojournalist began with a jolt. Shortly after reading news of the earthquake that devastated the Chinese city of Tangshan in 1976 - with tremors also felt in Beijing, 450 kilometers north of Tangshan - I was in Europe, photographing the Portuguese communist candidates on the campaign trail in Lisbon. Following this, in the wake of Franco's death, I headed to Spain to photograph the socialist candidate Philippe Gonzalez who was leading student rallies aimed at pulling Spain out of the Franco era. In Paris next, planning to photograph French Prime Minister Raymond Barre, I left Hotel Matignon one morning to be confronted by a full-page photograph of Chairman Mao on the cover of that day's Le Figaro. Realizing Mao had died, I called my agent in New York, Robert Pledge, who got me an assignment to photograph Mao's funeral for Time Magazine. However, I arrived in Guangzhou, only to be refused permission to travel to Beijing, and had to make do with photographing people in mourning in Guangzhou. The faces I saw on the banks of the Pearl River suggested more of a sense of relief than of grief. Little did I know that I had embarked upon my journey to photograph China after Mao; first for Time Magazine, 1979-81, and again in 1981 when I joined the Associated Press. In 1978, one of my jobs of reporting was a daily bicycle ride to the bus depot on the western side of Beijing that was later dubbed China's Democracy Wall. It was here that prominent dissidents regularly posted hand written posters on the wall urging China to open up and modernize and at the same time introduce more democratic reforms.

Since 1976, a number of photography books about the People's Republic have been published by both foreign and domestic publishers. The paradoxes of China do not seem obvious in these books. China has been an elusive subject for editors in New York, London or Paris. Editors well versed in the language of photography nevertheless encountered a "Chinese Wall" when dealing with official institutions in China, and with its myriad socialist doctrines: notable efforts have been made to gain access to the negatives in some of the key photographic sources such as the State-owned Xinhua News Agency, China Pictorial, Nationalities Pictorial, People's Liberation Army Pictorial, and the private archives of certain important individual photographers. Until now few have succeeded.

The Open Door

When China began to open to the outside world in the early 1980s, the works of western photographers were slowly introduced as the importation of books, catalogues and monographs was once again permitted. When Chinese photographers looked at the images of China that had been taken by western photographers such as Henri Cartier-Bresson and Marc Riboud, they were at the same time astounded and fascinated by the highly stylized, undeniably charming images of daily life they represented. Perhaps it was also a result of sustained indoctrination that ultimately discouraged Chinese photographers from finding beauty in their immediate drab surroundings.

In the introduction for the photographic book on the Face of China (1860-1912), British historian Nigel Cameron wrote of western photographers and travelers: "The scene on which the cameras of professionals and amateurs directed their brass-bound lenses in mid-century China was a sorry one indeed. It was a China in the dotage of a long life; a China in the confusion and turmoil of the recent past and the actual present, shaped by defeat at the hands of the West and by unrest within." China has no doubt evolved from that period and its aftermath, in which the Communists fought the Japanese, as well as being mired in a civil war with the Nationalist Kuomintang.
Page
1
2
3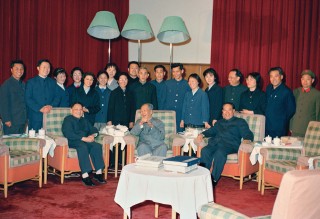 Deng Xiaoping (seated left) when he resumed his duties as Vice Premier, calls on Chairman Mao (center) and the latter's chief of security Huang Dongxing (seated right), in a group photograph with the personal staff of Mao in Zhongnanhai, Beijing. 1975. Photo (c) Du Xiuxia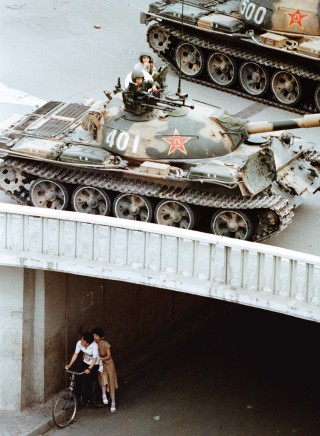 On June 5, 1989, a young couple waits beneath Jianguomenwai Bridge on the fringe of Beijing's diplomatic area, as PLA tanks roll above them. Martial law had been in place since the end of May. Photo (c) Liu Heung Shing, 1989