London calling
Tailor-made for TASCHEN by Paul Smith
For die-hard lovers of Paris, Berlin, London, Los Angeles, and New York, TASCHEN introduces the
Portrait of a City Art Edition series
. For each edition,
limited to only 500 copies
, a legendary local fashion designer is invited to design a bespoke fabric to line the cover, and a large signed and numbered print of one of the images from the book is included.
Limited to 500 numbered copies
Comes with a fine art print on archival paper, signed by Elmar Ludwig
Packaged in a special cover and clamshell case designed by legendary British fashion designer Paul Smith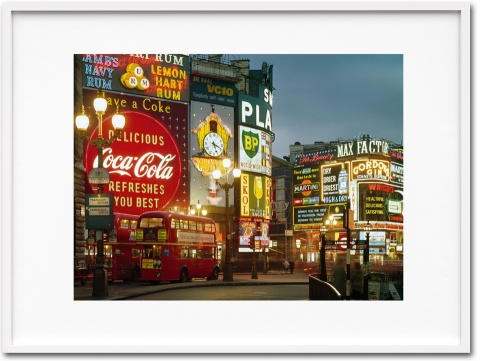 Ever since 1954 the neon Coca-Cola sign has dominated Piccadilly Circus, making it London's equivalent (albeit smaller) of Times Square, 60s.
© John Hinde Ltd/John Hinde Collection
Art Edition A - No. 1-500
Piccadilly Circus,
1960s
Fine art print on archival paper
52 x 68 cm (20.5 x 26.8 in.)
(Frame not included)
Also available in another Art Edition (No. 501-1,000)
The artist:
Now at the helm of his eponymous and highly successful global brand,
Paul Smith
came to fashion in an accidental way. At the age of 16, he happened upon a job at a local clothing warehouse in his native Nottingham. After an accident derailed his hopes at a career in cycling, he befriended students at the local art college and was inspired to pursue a career in clothing design. With the encouragement of his future wife Pauline Denyer (an RCA fashion graduate) and a small amount of savings, Smith opened his first shop in 1970. In 1976, he showed his first menswear collection in Paris under the
Paul Smith
label. In the ensuing years,
Paul Smith
had established himself as the pre-eminent British designer, currently overseeing 14 different collections, including men's and women's wear, shoes, eyewear, and fragrance.
The photographer:
Born in Halle in Germany in 1935,
Elmar Ludwig
began his apprenticeship as a photographer in Munich in 1951, aged 16. He got his first job with Foto Reger and subsequently spent two years as an assistant to Karl Hugo Schmölz, a well-known architecture and advertising photographer in Cologne. 1962 Ludwig was recruited as a postcard photographer by Irish publisher John Hinde Ltd. He spent the next few years travelling around the world from Britain to Australia and from Canada to the Bahamas. At the end of the 1960s he established his own studio in Munich, specializing in architecture, product and advertising photography.
London. Portrait of a City. Art Edition A

Paul Smith

,

Elmar Ludwig

Archival pigment print, 26.8 x 20.5 in., hardcover volume in clamshell box, cover and box design by Paul Smith, 9.8 x 13.4 in., 552 pages

$ 850
"This special edition collection, designed by Paul Smith, salutes Londoners and their shared history, who throughout the city's complex past and shifting present, have kept their humour, unique character, and bulldog spirit."
— Canary Wharf, London, United Kingdom