Two artists, one vision
The enigmatic and genre-defying work of Inez van Lamsweerde and Vinoodh Matadin
Art Edition limited to 100 signed and numbered copies, each with two photographic prints by Inez van Lamsweerde and Vinoodh Matadin
.

Art Edition A - No. 1–100
Alexander McQueen
, 2004 and
Kate/Groom
, 2005
Photographic prints
24.3 x 31.2 cm / 9.6 x 12.3 in. (image), 34.5 x 45 cm / 13.6 x 17.7 in. (sheet)
(Frame not included)
Also included:
Two-volume retrospective with 666 photographs of "pretty much everything" that the photographers have been working on for over two decades
Additional reader with interviews and texts about the photographic œuvre of Inez van Lamsweerde and Vinoodh Matadin
Entire set designed by the artists' longtime collaborators M/M (Paris) and includes original silkscreened poster, origami-folded over the top corner of the slipcase
The prints are enclosed in a bespoke portfolio with original M/M (Paris) graphic and black ribbon ties.
Also available in a second Art Edition (No. 101-200) with alternative prints.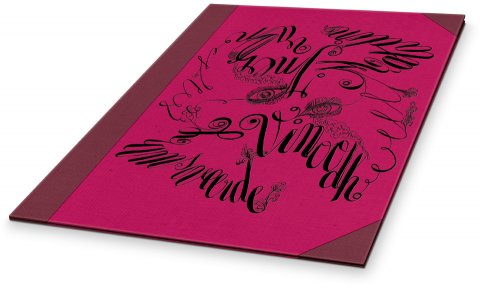 The designer:
Established in Paris in 1992, M/M (Paris) is an art and design partnership consisting of Mathias Augustyniak and Michael Amzalag. They are best known for their art direction and collaborations with musicians, fashion designers, and contemporary artists, including Björk, Madonna, Yohji Yamamoto, Balenciaga, Pierre Huyghe, and Inez van Lamsweerde & Vinoodh Matadin, as well as magazines including Vogue Paris, Interview, and Purple Fashion. In addition to solo shows in galleries in Europe and Japan, they have participated in exhibitions at Centre Pompidou and Guggenheim New York, and their work is featured in public collections around the world.
Inez van Lamsweerde/Vinoodh Matadin, Art Edition A

M/M (Paris)

2 archival prints in portfolio, 12.3 x 9.6 in. on 17.7 x 13.6 in. paper, 3 hardcover volumes in slipcase, 12.2 x 12.2 in., 984 pages, with origami-folded silkscreened poster

$ 4,500
"Truly a collection for art historians to indulge...a piece of collectible and rare art in itself."
— dreaminggenius.com, United Kingdom
Inez van Lamsweerde/Vinoodh Matadin. Art Edition B
2 archival pigment prints in portfolio, 12.3 x 9.6 in. On 17.7 x 13.6 in. paper, 3 hardcover volumes in slipcase, 12.2 x 12.2 in., 984 pages, with origami-folded silkscreened poster


$ 4,500




Inez van Lamsweerde/Vinoodh Matadin. Pretty Much Everything
Hardcover, 3 vols. in slipcase and poster, 12.2 x 12.2 in., 984 pages


$ 1,000