The world through Linda's eyes
A retrospective of Linda McCartney's life and photography
Art Edition limited to 125 copies, each coming with a fiber based silver bromide print, numbered and signed by Sir Paul McCartney.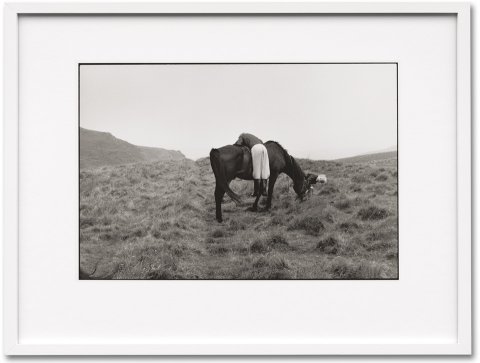 Art Edition A - No. 1–125
Stella and James
, Scotland, 1984
Fiber based silver bromide print
20 x 29.8 cm / 7.8 x 11.7 in. (image), 30 x 40 cm / 12 x 16 in. (sheet)
(Frame not included)
Also available in a second Art Edition, with an alternative photo print.
The photographer:
Linda McCartney
(née Eastman) was born in New York in 1941. She took a photo course with Hazel Archer and studied art history at the University of Arizona before settling in New York City, where she began her photo career shooting rock portraits. Outside of her photography, which has been exhibited in over 50 galleries worldwide including the Victoria and Albert Museum, London, the National Portrait Gallery, London, the Bonni Benrubi Gallery, New York, and the International Center of Photography, New York,
Linda McCartney
is known for her passionate animal rights activism and her staunch vegetarianism. She wrote cookbooks and founded her own brand of frozen vegetarian meals, all the while raising a family, continuing to take photographs, and participating as a Wings band member alongside Paul McCartney. She died in 1998 at the age of 56.
Linda McCartney. Life in Photographs, Art Edition A

Linda McCartney

Fiber based silver bromide print, 7.8 x 11.7 in. on 12 x 16 in. paper, hardcover volume in clamshell box, 12.3 x 17.3 in., 264 pages

$ 6,000
"Linda McCartney's photographs feature in a new book which includes family portraits, celebrity images and artistic work… a new book featuring the work of Sir Paul McCartney's late wife Linda. The book, published by TASCHEN, is entitled Linda McCartney: A Life in Photographs."
— BBC News Online, London, United Kingdom