NYT. 36 Hours. Europe - See also
Page

1

2
Flexicover, 12 vols. in slipcase, 4.7 x 6.5 in., 1536 pages,
$ 59.99
Travel wisdom in your pocket. Get around New York, Paris, Berlin, and London in style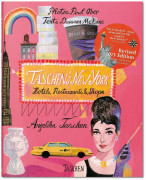 Coming soon
Hardcover, 9.4 x 11.9 in., 392 pages,
$ 39.99
In New York, it's all about who you know: and now you're connected. With this updated version of our city guide in hand, the Big Apple is yours for the biting. Cut-out tabs make it easy to flip through, and a pocket-sized map of Manhattan lists all the recommendations for hotels, shops, restaurants, cafes, and bars.

Flexicover, 6.6 x 9.4 in., 300 pages,
$ 29.99
Dream weekends with practical itineraries throughout Asia & Oceania

Flexicover, 6.6 x 9.4 in., 296 pages,
$ 29.99
Dream weekends and practical travel itineraries in Latin America and the Caribbean

Hardcover, 5.5 x 7.7 in., 576 pages,
New edition, only
$ 19.99
Original edition
$ 29.99
Travelling the world with an architect's eye

The New York Times presents 125 dream weekends in all corners of Europe from Amsterdam to Zermatt. iPad & iPhone version

Flexicover, 6.6 x 9.4 in., 128 pages,
$ 14.99
The highly acclaimed New York Times travel feature and best-selling book, finally available region by region

Flexicover, 6.6 x 9.4 in., 168 pages,
$ 14.99
The highly acclaimed New York Times travel feature and best-selling book, finally available region by region

Flexicover, 6.6 x 9.4 in., 168 pages,
$ 14.99
The highly acclaimed New York Times travel feature and best-selling book, finally available region by region

Flexicover, 6.6 x 9.4 in., 128 pages,
$ 14.99
The highly acclaimed New York Times travel feature and best-selling book, finally available region by region

Page

1

2
"…a fantastic gift for anyone who likes to travel, is interested in architecture and fashion, or would simply like to enjoy reading about and seeing Europe."
— Buchwurm.org, Porta Westfalica, Germany