Ceci n'est pas un livre, ceci n'est pas un film...
An uncommon case of seduction, secrets, and suspense
Art Edition limited to just 100 signed and numbered copies, each with the numbered original C-print Rose, c'est Paris, 2009, 40 x 30 cm (15.8 x 11.8 in.), Harman Photo-Barythpaper, signed by Bettina Rheims.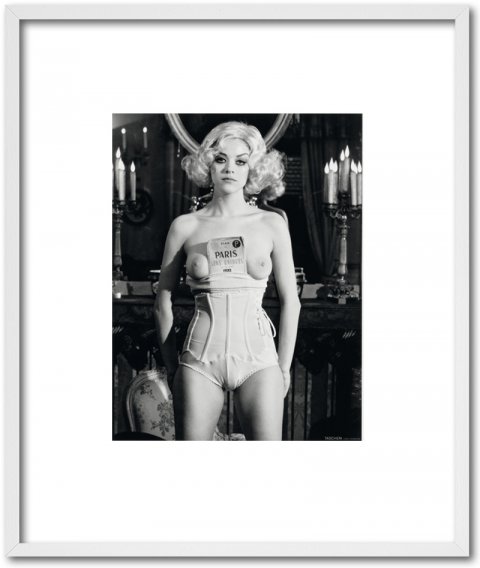 Rose, c'est Paris
, 2009
(Frame not included)
Also available in a second Art Edition, with an alternative print.
The artists:
Serge Bramly
is an artist, writer and essayist and frequently collaborates on artistic and photographic projects with Bettina Rheims. His books include
Leonardo: The Artist and the Man
(1995) and
Le Premier Principe
(Prix Interallié, 2008).
French artist
Bettina Rheims
produced numerous major photographic series, which have been exhibited all over the world. Her books include
Female Trouble
(1989),
Modern Lovers
(1990),
Chambre Close
(1994),
I.N.R.I.
(1998),
X'Mas
(2000),
Shanghai
(2003),
Héroïnes
(2007), and
The Book of Olga
(2008 for TASCHEN).
Bettina Rheims/Serge Bramly. Rose - c'est Paris, Art Edition A

Serge Bramly

,

Bettina Rheims

C-print on Harman Photo-Barythpaper, 11.8 x 15.8 in., hardcover volume, 11.4 x 15.9 in., 332 pages, with booklet, DVD and souvenirs in retro attaché case

$ 2,000
"Bettina Rheims does not take photographs; she constructs compositions, like a painter."
— Le Monde, Paris, France
Bettina Rheims/Serge Bramly. Rose - c'est Paris, Art Edition B
C-print on Harman Photo-Barythpaper, 11.8 x 15.8 in., hardcover volume, 11.4 x 15.9 in., 332 pages, with booklet, DVD and souvenirs in retro attaché case


$ 2,000




Bettina Rheims/Serge Bramly. Rose - c'est Paris
Hardcover with booklet, DVD, and further objects in suitcase, 11.4 x 15.9 in., 332 pages


$ 1,000