Christo's jewelry design for Jeanne-Claude's hand
The Art Edition is limited to just 100 signed and numbered copies, each with the original pigment/silk screen print Project for Jewelry on Jeanne-Claude's Hand, after a 1965 study. Signed by Christo.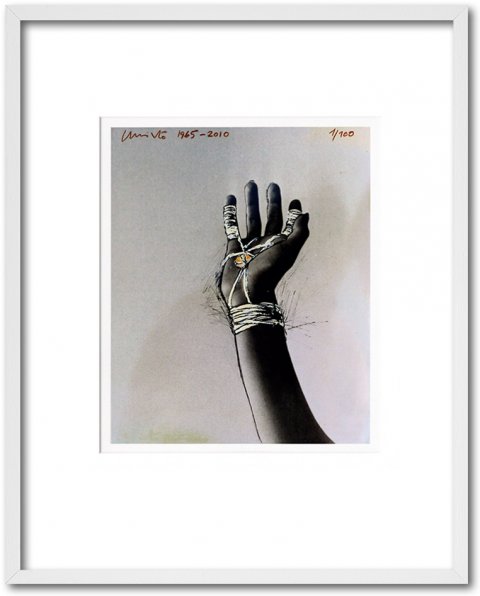 Project for Jewelry on Jeanne-Claude's Hand
Original pigment/silk screen print
24.1 x 19.2 cm / 9.5 x 7.5 in. (image), 44 x 33 cm / 17.3 x 13 in. (sheet)
(Frame not included)
Also available: Copies no. 1 to 6 are accompanied by original works of Over The River, Project for Arkansas River, State of Colorado and The Mastaba, Project for United Arab Emirates.
The artist:
Christo & Jeanne-Claude
have worked in collaboration since 1961, and lived in New York City since 1964. Their large-scale projects include
Wrapped Coast, Australia, 1968–69, Valley Curtain, Rifle, Colorado, 1970–72, Running Fence, Sonoma and Marin Counties, California, 1972–76, Surrounded Islands, Biscayne Bay, Florida, 1980–83, The Pont Neuf Wrapped, Paris, 1975–85, The Umbrellas, Japan–USA, 1984–91, Wrapped Reichstag, Berlin, 1971–95, Wrapped Trees, Riehen, Switzerland, 1997–98
and
The Gates, Central Park, New York City, 1979-2005.
Jeanne-Claude died in 2009.
Christo & Jeanne-Claude, Art Edition B

Christo & Jeanne-Claude

Pigment/silkscreen print, 7.5 x 9.5 in. on 13 x 17,3 in. paper, hardcover volume in clamshell box, 13 x 17.3 in., 754 pages

$ 5,000
"This publication is a vibrant homage to the imagination of two artists who have transformed our vision of landscapes across continents."
— fashion-artmagazine.com, Paris, France