Sleepwalking in a curious alter-reality
A retrospective of Rauch's delirious painting
Limited to 100 individually numbered copies, each signed by Neo Rauch, this Art Edition comes with the signed chalk lithograph Heimkehr, 2010, printed on handmade paper with a hand-lever press, 44 x 33 cm (17.3 x 13 inches).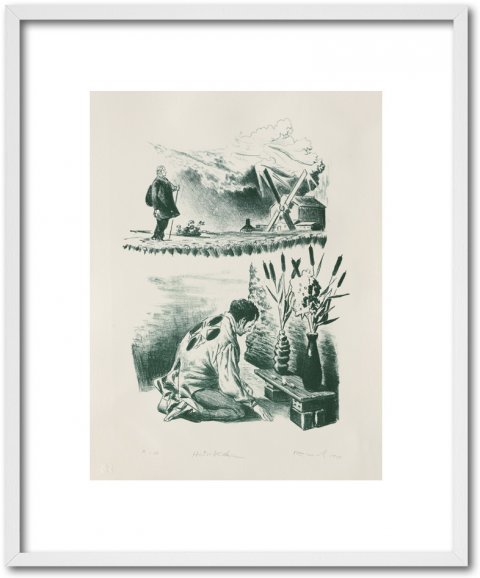 Neo Rauch,
Heimkehr
, 2010
(Frame not included)
The artist:
Neo Rauch
(*1960) graduated from the Leipzig Hochschule für Grafik und Buchkunst (Academy of Visual Arts) as master student of Bernhard Heisig in 1990. In 1997 he won the art prize of the Leipziger Volkszeitung newspaper which lead to a first institutional exhibition at the Museum der bildenden Künste in Leipzig. The breakthrough year was 2000 with a touring exhibition at Galerie für Zeitgenössische Kunst in Leipzig, the Haus der Kunst in Munich, and at the Kunsthalle Zürich. Since then he has shown at a variety of venues including the Venice Biennale, a solo show at the Vienna Albertina, and the Metropolitan Museum in New York; in 2010 a major double retrospective simultaneously opened in Leipzig and Munich. Rauch lives and works in Leipzig.
Neo Rauch, Art Edition

Neo Rauch

Hardcover in clamshell box with print in portfolio

, 13.0 x 17.3 in.,

476

pages,

$ 10,000

(November 2010)
"Among the most celebrated German artists working today, Neo Rauch is getting his due in this limited-edition, extra-large-format book of no fewer than 450 pages and 250 full-page illustrations."
— Art&Auction, New York, United States