Eyewear - See also
Page
Hardcover, 14.2 x 14.2 in., 416 pages,
$ 200
The prince of prints. Pucci's vision and legacy

Hardcover, 11.8 x 11.8 in., 420 pages,
New edition, only
$ 69.99
Original edition
$ 200
Pucci's vision and legacy: available in four different cover designs. Standard TASCHEN edition

Hardcover, 2 vols. in slipcase, 9.4 x 13.2 in., 640 pages,
$ 59.99
A History from the 18th to the 19th Century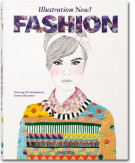 Hardcover, 8.5 x 10.8 in., 400 pages,
$ 59.99
Styled by hand: the many incarnations of illustration in the world of fashion

Hardcover, 9.4 x 11.9 in., 464 pages,
$ 39.99
The way we wore: the story of modern fashion—from couture to mass market

Hardcover, 6.7 x 8.5 in., 736 pages,
$ 29.99
Start every day in style. A century's worth of chic

A landmark costume history, covering style and dress from antiquity to the end of the 19th century. From French couture to traditional Eskimo attire, top resolution and interactive images of Racinet's beautifully detailed and colored illustrations offer an invaluable reference for students, designers, artists, illustrators and historians.

Page
Moss Lipow

Hardcover, 9.4 x 9.4 in., 360 pages

$ 59.99
"...this visual history is one tome not to be missed."
— Vintage Vault Website, London, United Kingdom