Illustration Now! 4 - See also
Page
Hardcover, 9.8 x 12.4 in., 312 pages,
$ 69.99
Where great ideas come to roar: The campaigns that changed the advertising industry forever

Hardcover with poster, 9.7 x 14.6 in., 480 pages,
$ 69.99
Seeing is understanding: How complex ideas can be communicated via graphics

Hardcover with 7 fold-outs, 9.7 x 14.6 in., 456 pages,
$ 69.99
This expansive publication follows up on TASCHEN's Information Graphics with more than 280 contemporary and vintage visualizations to help us understand our world, including seven fold-out spreads. Spanning the present state, and historical shaping, of society, culture, technology, economics and the environment, this is at once a showcase of the most outstanding data design work, and a fascinating digest of where and how we live.

Hardcover, 2 vols. in slipcase, 9.4 x 12.4 in., 640 pages,
$ 59.99
Picture this: the biggest players in the highly competitive field of illustration

"Illustration nerds, it's time to get your geek on… 100 of the most significant illustrators working in the field today."
— Huffington Post, New York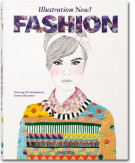 Hardcover, 8.5 x 10.8 in., 400 pages,
$ 59.99
Styled by hand: the many incarnations of illustration in the world of fashion

Hardcover, 9.8 x 12.5 in., 392 pages,
$ 59.99
Anatomy of ideas: the life's work of an infographics pioneer

Hardbound with elastic band, 6.6 x 8.9 in., 384 pages,
$ 39.99
The mobile revolution. Find out how to make the most of it

Flexicover with flaps, 7.7 x 9.8 in., 448 pages,
$ 39.99
Today's most exciting 150 illustrators from over 30 countries, featuring both personal work and high-profile client projects. With an introduction from Steven Heller.

Hardbound with elastic band, 6.6 x 8.9 in., 384 pages,
$ 39.99
Outstanding letterheads, envelopes, and business cards from around the world - good ideas by the hundreds

Hardcover, 6.7 x 8.5 in., 320 pages,
New edition, only
$ 14.99
Original edition
$ 39.99
Picture this: today's most exciting illustrators from A to Z

Page
| | |
| --- | --- |
| | Online not available |
"... perfect for graphic artists, creative professionals and illustration students, as well as anyone with an appreciation for draftsmanship and visual language."
— ParkaBlog.com, New York, United States