Trespass. A History of Uncommissioned Urban Art - See also
Page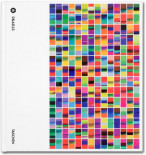 Hardcover, 9.5 x 10.2 in., 592 pages,
$ 69.99
Latest and greatest: the prestigious annual for creative professionals

Hardcover, 9.8 x 12.4 in., 312 pages,
$ 69.99
Where great ideas come to roar: The campaigns that changed the advertising industry forever

Softcover with jacket, 9.8 x 12.5 in., 360 pages,
$ 59.99
Celebrating 50 years of excellence in design and advertising, and the people who made it happen

Flexicover with thumb index, 6.6 x 9.4 in., 776 pages,
$ 59.99
Signs of our times: a monumental logo compilation

Hardcover, 2 vols. in slipcase, 9.4 x 13.2 in., 720 pages,
$ 59.99
Mad for ads. Advertising for the space Age—Zoom back in time to the 50s and 60s!

Hardcover, 8.3 x 10.8 in., 704 pages,
$ 39.99
Tracing 1940s America through advertising, this new hardcover collection edited by Jim Heimann follows the ads of the United States through the propaganda of war to the mass consumerism of peace.

"The ads themselves, besides being graphically stunning, are as eloquent about mid-century Americans as any eyewitness report."
—The Wall Street Journal, New York

New
Hardcover, 5.5 x 7.7 in., 720 pages,
$ 19.99
Sit back with this anthology of ads and zoom back in time to the height of American postwar consumerism, when real life Don Drapers labored day and night to sell everything from girdles to guns.
"If you're a graphic design nerd, a marketing guru looking for a coffee table book or just a lover of pop Americana, trust us, you want this for your collection."
—
Huffingtonpost.com
, New York
Explore seven decades of gamechanging commercials with this eBook celebration of the Cannes Lions Festival of Creativity, a global benchmark for excellence in creative communications. With an introduction from Arianna Huffington and eyewitness accounts from the likes of David Bailey, Paula Green, David Droga and Lee Clow.

Words that sell: the superstars of advertising copy. iPad version

Page
"The spray-can gets invited to the gallery."
— The New York Times, New York, United States