Leonardo da Vinci. Complete Paintings and Drawings - See also
Page

1

2
Hardcover with fold-outs, 11.4 x 15.6 in., 676 pages,
$ 200
A major contribution to Klimt scholarship, featuring the complete catalog of his paintings, new photographs of the Stoclet Frieze, extensive artist correspondence, and a series of essays examining the stylistic and thematic details of his groundbreaking practice and polarizing effect on the art world.

Hardcover with 2 fold-outs and ribbon bookmark, 11.4 x 15.6 in., 300 pages,
$ 150
Delicious demons: deciphering allegories in the complex, fantastical works of Hieronymus Bosch. With magnificent fold-out spreads of The Last Judgement and of The Garden of Earthly Delights, each over 110 cm (43 in.) long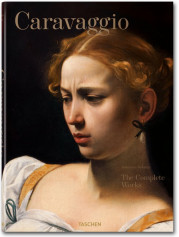 Hardcover, 11.4 x 15.6 in., 306 pages,
$ 150
Sublime blasphemy?: The complete œuvre of the dark genius who revolutionized European painting

Hardcover in slipcase, 9.6 x 14.6 in., 736 pages,
New edition, only
$ 69.99
Original edition
$ 200
Commemorating the 450th anniversary of Michelangelo's death, this scientifically updated edition offers a complete analytical inventory of his painting, sculpture, building and drawing as well as a rich biographical essay discussing the previously under-explored personal traits. The edition's slipcase converts into a book stand, so you can delight in the book on display.

Softcover, 2 vols. in slipcase, 8.7 x 11.4 in., 700 pages,
$ 29.99
Da Vinci in detail. Leonardo's life and work - the definitive edition

Hardcover, 5.5 x 7.7 in., 768 pages,
$ 19.99
From anatomical studies to architectural plans, from complex engineering designs to pudgy infant portraits, this Bibliotheca Universalis edition presents more than 600 of Leonardo da Vinci's masterful drawings.

"Fantastic ... a 'home museum' of a kind that does not exist for many other artists. Even the smallest drawing is reproduced in outstanding quality..."
— art, Hamburg

Hardcover, 9.4 x 11.8 in., 96 pages,
$ 14.99
Florence's golden child: the Early Renaissance master

"Botticelli drew frequently, to such an extent that artists went to considerable lengths after his death to follow his drawings."
—Giorgio Vasari

Hardcover, 9.4 x 11.8 in., 96 pages,
$ 14.99
A prophet of modernism: strong colors and sinuous figures

"I have found a man, a great, unbelievably gifted man: Greco. A man from Rembrandt's day and yet as close to us as a contemporary."
—Julius Meier-Graefe, 1910

Hardcover, 9.4 x 11.8 in., 96 pages,
$ 14.99
Heavenly grace and human grandeur

Softcover with flaps, 7.3 x 9.1 in., 96 pages,
$ 9.99
Germany's greatest Renaissance artist

Page

1

2
"Sumptuously made and beautifully produced, is the most thorough Leonardo comprehensive survey ever published."
— Soloarte, London, United Kingdom